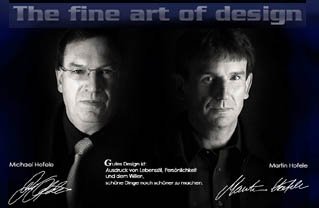 Hofele Design, a premiere German styling and tuning house for Audi, Volkswagen and Porsche brands has a relationship with LLTek Motorsports of North America that first took root in 1998. Over the years LLTeK (the official North American Importer and Distributor for MatchPaint service) has been instrumental in bringing exciting and innovative Hofele styling kits to the attention of enthusiasts worldwide. Hofele and LLTeK have developed a trusted channel and diverse line of products for the North American German Car Community. . . Purchase Hofele parts with confidence - LLTeK has been diligent in order to confirm and assure quality, fitment and value.

Only LLTek offers the exclusive MatchPaint program for the Hofele line of products using German professional paint products to save time, effort and money - consider the MatchPaint option.
Simplify your Audi, Porsche or VW tuning project.



LLTek works hand-in-hand with Hofele and is constantly in communication with Germany. TÜV certification, contribution to "hands-on" English installation instructions, body kit fitment tests on North American cars and recognized reliability all contribute to making LLTeK's Hofele product an excellent choice. Above all, our committment to best customer purchase experiences combined with decades of experience on two continents will ensure satisfaction. LLTeK will answer your questions before AND after your purchase.