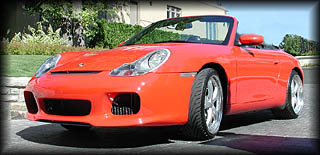 It was not so much a surprise as it was a possibility VERIFIED when LLTEK decided to see if Caractere's Porsche Boxter Front Bumper would fit on a Porsche 996 (Model years 1999>2002). The results were better than anyone had hoped for. After a small modification to the bumper bar and some quick cuts to the rubber cooling ducts - the fitting was completed as if the car and bumper were meant for each other. The happy owner loved the new look on the car and the photos below show why!
Close-ups below will provide a thorough appreciation of the Carbon Fiber strips in the nose and also the Carbon Fiber splitter under the bumper. LLTEK is waiting on confirmation of kit completion (side skirts and rear valence) from Belgium and will post news as it arrives. If you have questions about this styling upgrade or any other products offered by LLTeK- call toll-free in North America at
1 888 465 5835
- 8:30 AM until 5:00 PM (EST) - it merits your attention.
Part #
Description
Price

CARPOR986-01CAR S
Caractere 996 Front Bumper
1999 - 2002 Carbon Trim
(Special Order)

$3165

Click on any thumbnail image for an enlarged pop-up version
Part #
Description
Price

CARPOR986-01KEV S
Caractere 996 Front Bumper
1999 - 2002 Kevlar Trim
(Special Order)

$3299