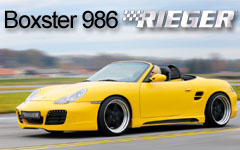 Rieger Tuning, world-recognised designer and manufacturer of body kit styling for German cars has produced and released a contempoary upgrade for the original Porsche Boxster 986 roadster. This is a Porsche market entry point for Rieger and it does not disappoint. Aside from the body kit options (like Rieger's carbon fiber look), 986 owners can choose from an array of tuning options offered by Rieger including LED lighting, pedals and stainless steel exhaust. Here is the timely intersection of designer and machine that Porsche owners can consider as a viable alternative in upgrading the 986 roadster.
If you have questions about this styling upgrade or any other products offered by LLTeK- call toll-free in North America at
1 888 465 5835
- 8:30 AM until 5:00 PM (EST).
Part#
Description
Composition
Price
RIEPOR986-01

Front Bumper (986)
ABS
$1177
RIEPOR986-02 LED
Front Bumper For Vehicles With Recess for LED's (986)
ABS
$1188
RIEPOR986-03
Bumper Intakes Upgrade to CARBON Look L&R (986)
MUST BE SPECIFIED AT TIME OF ORDERING BUMPER
ABS
$77

RIE 295308 LED
LED Light Kit (8 per side) FOR Front Bumper
-
$666
RIEPOR986-04L

Side Skirt Left With Duct (986)
ABS
$344
RIEPOR986-05R
Side Skirt Right With Duct (986)
ABS
$344
RIEPOR986-06L CAR

Side Skirt Left With Duct CARBON Look (986)
ABS
$377
RIEPOR986-07R CAR
Side Skirt Right With Duct CARBON Look (986)
ABS
$377
RIEPOR986-08

Rear Valance (986)
ABS
$733
RIEPOR986-09 CAR
Rear Valance CARBON Look (986)
ABS
$788
RIEPOR986-10
Sport Muffler 2 x 100x 80 mm Tips (986)
Stainless Steel
$2977
RIEPOR986-12
Side Intakes L&R (986)
PUR
$444

RIEPOR986-14
Boxster LED Rear Lights Black (986)
-
$611

MHW986-01 RED/SIL
Boxster Halogen Rear Lights Red/Silver (986)
-
$366

RDI996/986-30 PEDAL
Aluminum Pedals Automatic (986 / 996)
Aluminium
$166

RDI996/986-31 PEDAL
Aluminum Pedals Manual (986 / 996)
Aluminium
$166

RDI996/986-32 FOOT
Aluminum Footrest (986 / 996)
Aluminium
$166