The new
UberHaus RS Sabre bumper
for the Audi A8 D3 years 2006 - 2010, is coming down the pike. This is the bumper upgrade you've been waiting for that bumps a D3 up 1 generation.
LLTeK announces a no-charge upgrade in its A8 / S8 D3 Sabre bumper programme. As part of the package, lower vent LED /DRL's are included, and these lights have now been upgraded to a larger, brighter performance product.
This bumper provides a clean, factory RS look. The Quantum RS grill, a central feature, presents a no-license-plate-panel / ultra-clean appearance featuring OEM RS style honeycomb mesh seen on all Audi RS cars. However, a euro-spec license frame for a plate can be neatly attached if required. Style enthusiasts can choose between Audi's square shoulder black or silver RS look grille.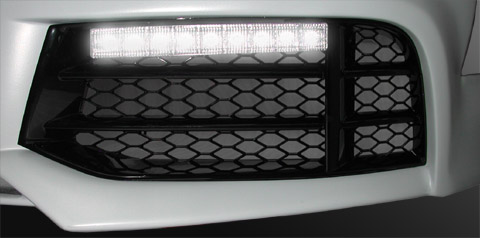 Orders for Europe or other countries that require a Euro-style plate can have the same black or silver RS Quantum grill version with a fixed Euro-sized plate holder. The bumper accepts all 4 park distance sensors. If your car does not have sensors, a delete option is available at no cost. Designed in Spain and built in Portugal, the Sabre is the absolute latest in Audi A8 styling with delivery set for late summer 2013.
Ask any question you have here via e-mail.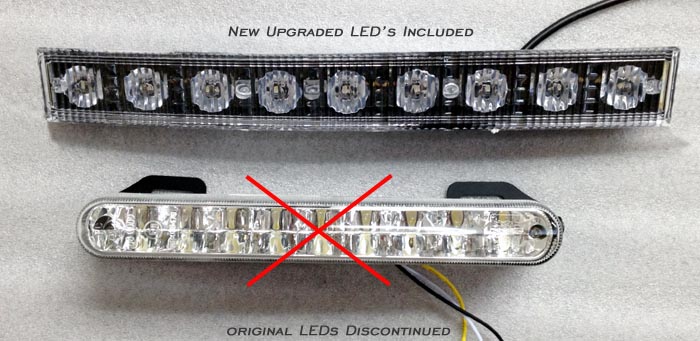 The photos of the Sabre bumper below (see Features We Like) are advanced development pictures received from Portugal. So, to give you a better idea of the finished look, we are providing photos of other Audi RS cars to give you the look and feel of what the bumper will look like and will provide new photos of the bumper on and off the car as the project moves forward.
Optional Upgrade Items
$376 Upgrade lower corner grills to Euro Audi RS grills -
$33 Ring holder (preinstalled if optioned) -
$77 Chrome rings (preinstalled if optioned) -
$55 RS grill badge (pre-installed if optioned) -
$55 RS trunk badge -
N/C Delete parking sensor holes in bumper and grill (specify)
$2399 LED tail lights (Euro spec.) -
$199 Pre-installation of LEDs, mesh or corner grill with LEDs recessed -


Note: *If your A8 or S8 has ACC (adaptive cruise control), the grille modification required
to accomodate AAC must be accomplished locally.

Few North American A8/S8 D3 cars have this option.

All offers, programs and pricing subject to change.
Line#
Part#
Part Description
click an image for an enlarged pop-up version
Price
Line #1
Part# QGYT-AURRH

Grille Rings and Ring Mount
Rings
$77
Ring Mount
$33
Line #2
RIEA58T-48 (B8) L
RIEA58T-49 (B8) R



optional lower corner grilles
click image for enlarged version
$376 (set)
Line #3
JEA84E-02 (D3) SWB


Side skirts (limited availability)
click image for enlarged version


$1111
Line #4
HFA84E-12L (D3)

HFA84E-12R (D3)


High Performance Composite (Left and right) Vented fenders
click image for enlarged version


$1355 per side
Line #5
HFA84E-11 (D3)

Rear valance - Sport Config - Quad Tip
click image for enlarged version


$1539
Line #6
HFA84E-15 (D3)

Quad exhaust
click image for enlarged version


$1749
Line #7
JEA84E-05 (D3)

Trunk spoiler
click image for enlarged version


$611
Line #8
XT
EXA84E-01 (D3)

EXA84E-02 (D3)cf


ST
EXA84E-03 (D3)

EXA84E-04 (D3)cf

Roof spoiler available in 2 sizes - XT 6" and ST 4"


Either roof spoiler can be ordered in Carbon Fiber for an additional $200
click image for enlarged version




$399
Line #9
JE970-ET97035

Lowering module (plug and play)
Click and View enlarged pop-up image

Click and View More Detail on Audi Suspension Lowering

$2299

on/off switch
$155 option
Line #10
HFA84E-20 (D3)

Euro-spec LED taillights (4 pieces)
click image for enlarged version
$2399
Line #11
HF 1410

optional RS Badge
$55

Here are the styling cues the Spanish design team were working with in developing the A8 D3 Sabre.