RS8f Series - Audi A8 D3 (facelift) and Audi S8 D3 Body Kit Conversions
Fitment for 2006, 2007, 2008, 2009 and 2010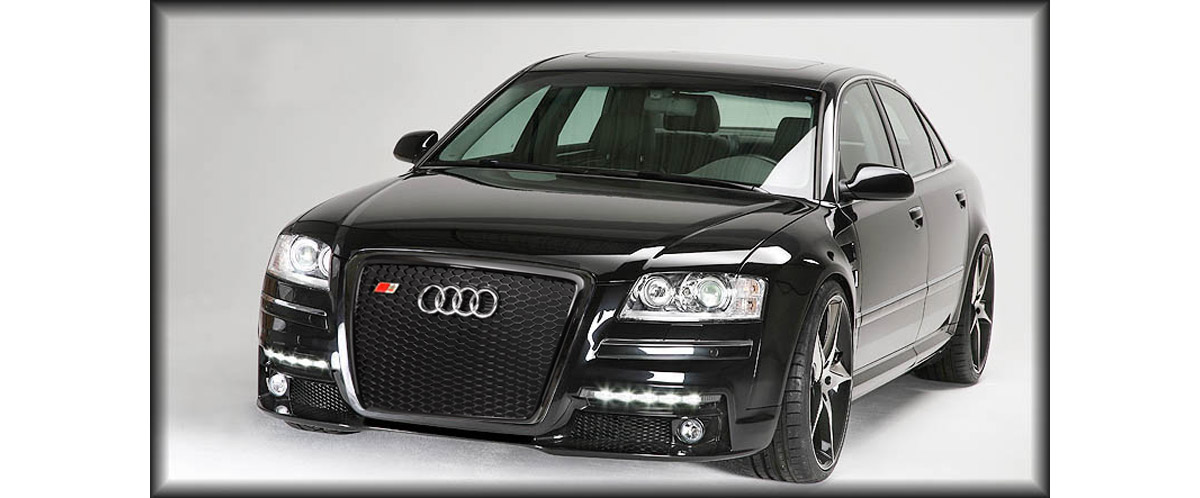 Hofele RS8f styling for the Audi A8 D3 features the Quantum RS grille - 30% off regular price when purchased with this bumper.
The top of the line "saloon" A8 - first Audi production chassis (D3) to benefit from Audi aluminum "space frame" technology - enjoys an enviable reputation. As far back as 1994, Hofele Design recognised all the potential styling room to manoeuver with. They saw the understated, discrete Audi A8 lines that aftermarket automotive designers are all attracted to when the first Audi A8 D2 was released. All these years later and Hofele is still styling with the Audi A8 producing world class design and product. This aftermarket body kit styling page offers wheels, fenders,bumper, grilles, valence, and matching quad tip exhaust mufflers.

Stealthy Matte D3 Conversion: Superb completion by Anderson (Dusseldorf, Germany).
The RS8f kit released in March of 2009 is the latest in German design and manufacture for the Audi A8 D3 facelift. The bumper features LED lighting above the driving/fog lights and new venting in the bottom corners plus the option of retaining and using the Audi OEM grill currently on your car. LLTeK offers a number of choices in OEM and aftermarket grille options for this car; however, the choice is yours. What remains the same in this second version of RS Eight styling is the quality of manufacture that ensures trouble-free installation and authenticity. The "modification" to the appearance of your car is not a "customization" - the car is meant to be driven - despite the fact that it would hold its own if entered into display tuning competition.


Low to the ground and screaming fast - this Audi S8 looks every bit as fast as it is.
In addition to the front bumper, the conversion upgrade offers track style carbon/kevlar front fenders, a quad tip muffler, rear valence and five-spoke eta beta wheels with stainless steel inserts that say - "this car goes like stink". These items are designed to illustrate the quiet but powerful underlying nature of the Audi A8 D3. You can get the suspension lowering device too!
There are many choices provided for A8 owners by LLTeK- the modifications offered here, right down to the use (or not) of badging will help in defining your project. Take 5 minutes now and call toll-free in North America - 1 888 465 5835 - or call international 001 514 733 6333 and speak with an LLTeK Rep who will answer your questions. LLTeK busines hours are Monday through Friday --- 8:30 AM to 5:00 PM EST.
Audi A8 D3 (Facelift) Body Kit Bumper - RS8f Series Conversion

Part #
Description
Price
Line 1
HFA84E-10 (D3) FL
RS8-Look Front Bumper** 06>09
Fog Lights included
$2999

Quantum RS Grille for the facelift Audi A8 S8 D3 is eligible for discount of 30% when purchased with this bumper.


Line 2
HFA84E-03(D3)
Headlamp Washer Covers - Optional
Original Caps for headlamp washer ports can be used

$77
Line 3
HFA84E-05 (D3) REQ
Optional LED / Fog Light Bar Kit
for use with Bumper HFA84E-10 (D3) FL
$722
Single Frame Grille Price Schedule for RS8 Front Bumper Conversion Kits


Quantum RS Now Available for the Hofele RS Front Bumper Conversion!



Part#
Description
Price


HFGRILL-7354-V8
OEM Audi V8 Grill - NO PDC
$633
HFGRILL-7354-P-V8
OEM Audi V8 Grill - WITH PDC
$633
HFGRILL-7354-S8
OEM Audi S8 Grill - NO PDC
$1355
HFGRILL-7354-P-S8
OEM Audi S8 Grill - WITH PDC
$1411
HFGRILL-7354-CDP-S8
OEM Audi S8 Grill - WITH PDC & ACC
$1466
HFGRILL-7354-W12
OEM Audi W12 Grill - NO PDC
$1499
HFGRILL-7354-P-W12
OEM Audi W12 Grill - WITH PDC
$1599
HFGRILL-7354-CDP-W12
OEM Audi W12 Grill - WITH PDC & ACC
$1799
*Conversion Kit can incorporate OEM Parts not included in Price of Bumper
OEM parts may be purchased separately through LLTeK or at your local Audi Dealership.

HFGRILL-7362-H
Hofele RS Grill - NO PDC
$355
HFGRILL-7362-H
Hofele RS Grill - WITH PDC
$355
Part#
Description
Price

Body kit styling by Hofele Design with grille #HFGRILL-7362-H - Project completion: Southern California, summer 2009.

Call now and speak with a friendly and knowledgeable LLTEK Representative!
Completed Project - Click and View Enlarged Version
RS8f Series Conversion - continued

Line#
Part #
Description
Price

Center Mesh Included


Line 5
HFA84E-11 (D3)
Rear Valence for Audi A8 D3
(Sports Configuration - Quad Tip)
$1539


click here for suspension lowering device info


Line 6
IBWA84E-01 (D3)
Multi Level Settings
TÜV Approved "Blackbox" Lowering Module
For Use with OE Air-Assisted Lowering Only
$2299
Line 7
HFA84E-12L (D3)
Front Left Fender - High Performance Composite
$1355
Line 8
HFA84E-12R (D3)
Front Right Fender - High Performance Composite
$1355
Line 9
HFA84E-15 (D3)
High Performance Quad Tip
Sport Muffler System - Quattro (Gasoline)
$1749
Line 10
HFA84E-16 (D3)
High Performance Quad Tip
Sport Muffler System Quattro - (Diesel)
$1749

For more information on the wheels shown on this A8 - Click here Now and View Details


Line 13
HFA84E-20

LED Tail Lights for Audi A8 D3
$2399

Click and View More Detail on Audi Suspension Lowering


Line 14
IBWA84H-01 (D4)
Lowering Module
Only for vehicles with air suspension
Lowering 40mm front and 30mm rear
+/- 20mm fine adjustment after installation
$2299