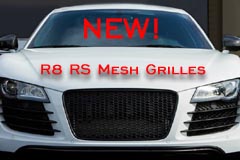 As time progresses, look to LLTeK for a broad range of product for Audi's R8 line. We started this section with a suite of carbon fibre bodykit parts for the original Audi R8 produced by German tuner Hofele. Many owners of the R8 in North America have expressed frustration with the dealerships' inability to source side blades in Carbon Fibre. LLTeK has these parts for the Audi R8 and will contine to add options.
There is confusion, perhaps organized confusion, surrounding the variety of names for the R series of cars. There is the Coupe (orginal with 4.2 FSI) and Spyder (5.2) but variations continue to appear. quattro GmbH (a subsidiary of Audi AG and manufacturer of the R8) has released the V10 5.2L TFSI engine model. This motor is a technical version of the motor from the RS6 (C6) and produces 580 HP which exceeds the 4.2 litre R8 by 160 HP. Some refer to this model as the R10 and some call it the RS8 - at LLTeK we've come to know it as the V10. The styling cues that differentiate these models within the hierarchy of the line will invariably be variations in grilles, diffussors, mirrors and trim as per Audi's traditional distinctions.
As time progresses, the LLTeK's series of accessories and parts for the Audi R8 will grow and mature along with the car. The Audi R8 is an enormous success and will sit atop the Audi lineup for all to see the corporate motto in action - Vorsprung durch Technik.
Progressive Autosports in Texas jumps on the Rieger R8 and carries it off beautifully.
3 more images of Audi R8 by Rieger here.