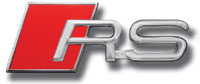 LLTeK Motorsports is often first past the post in offering body kit styling for the aftermarket Audi enthusiast in North America. Here is another example with the release of exclusive RS grilles for the Audi R8. Our expertise is accrued by years of passion combined with ownership of Audi cars.
The prototypical grille design for the current line of Audi vehicles hails from the past - in essence, the Type D (1938-1939) racing machine, an open-wheeled monster possessing a 485-hp, 3.0-liter V-12. Although the single frame grille back then was configured for the vertical because the "Type D" looks more like a Saturn 5 booster than today's R8 deck streamer, the design immediately sets Audi apart with a recognition factor that is the envy of car manufacturers around the world.
You can put rings on this grille or not. You can put a badge on this grille or not. If you have a black R8, you can go "Darth Vader" on this grille. If you have a white R8 you can go "Lone Ranger" - it's your grille.
Questions? Call LLTeK Toll-Free at 1 888 465 5835 in North America, International calls - 001 514 733 6333. LLTeK business hours are Monday through Friday 8:30 AM to 5:00 PM (EST) - International: GMT -5:00
RS Grilles for the (after facelift) Audi R8 Typ42

Part#

Description

Composition

Price



EXR8(42)-03 FL CAR
R8 (Typ 42) Facelift RS Center Grill
Carbon Fibre Frame / Gloss Black Mesh
(upper frame corners angular - fitment for after facelift R8 models)
Carbon Poly/Plastic
$1777
$1499
EXR8(42)-04 FL GBK
R8 (Typ 42) Facelift RS Center Grill
Gloss Black Frame / Gloss Black Mesh
(upper frame corners angular - fitment for after facelift R8 models)
Poly/Plastic
$1444
$1299

NEW - Box Set Grille + Vents Bundle!
(savings package of center grille & corner vents)

EXR8(42)-12K FL CAR
After Facelift RS Center Grille & Corner Grilles
Carbon Fibre Frame / Gloss Black Mesh Center Grille + Carbon Fibre Corner Vents
(upper frame corners angular - fitment for after facelift R8 models)
Poly/Plastic
$3298
$2999
Save $299


EXR8(42)-13K FL GBK
After Facelift RS Center Grille & Corner Grilles
Gloss Black Frame / Gloss Black Mesh Center Grille + Gloss Black Corner Vents
(upper frame corners angular - fitment for after facelift R8 models)
Poly/Plastic
$2898
$2599
Save $299
EXR8(42)-07 FL CAR
R8 (Typ 42) Facelift L&R RS Intake Grills
Real Carbon Fibre Frame / Gloss Black Mesh
Carbon Poly/Plastic
$1888
$1799
EXR8(42)-08 FL GBK
R8 (Typ 42) Facelift L&R RS Intake Grills
Gloss Black Frame / Gloss Black Mesh
Poly/Plastic
$1599
>
RS Badging Audi R8

Part#

Description

Composition

Price

CDB-QUATTRO

Quattro logo (approx 18" wide)
Adhesive plus 3 screw mounting points

ABS
$88

DL-LOGO182 RS8
in black or chrome
Adhesive Backed Badging

ABS
$included



DL-LOGO474GL RINGS
Gloss Black Adhesive-Backed Nose Rings
ABS
$included
RS Grilles for the (before facelift) Audi R8 Typ42

Part#

Description

Composition

Price



EXR8(42)-01 PFL CAR
R8 (Typ 42) Pre-Facelift RS Center Grill
Real Carbon Fibre Frame / Gloss Black Mesh
(upper frame corners round - fitment for before facelift R8 models)
Carbon Poly/Plastic
<$1777
$1499
EXR8(42)-02 PFL CAR
R8 (Typ 42) Pre-Facelift RS Center Grill
Gloss Black Frame / Gloss Black Mesh
(upper frame corners round - fitment for before facelift R8 models)
Poly/Plastic
$1444
$1299

NEW - Box Set Grille + Vents Bundle!
(savings package of center grille & corner vents)

EXR8(42)-10K PFL CAR
Before Facelift RS Center Grille & Corner Grilles
Carbon Fibre Frame / Gloss Black Mesh Center Grille + Carbon Fibre Corner Vents
(upper frame corners angular - fitment for after facelift R8 models)
Poly/Plastic
$3298
$2999
Save $299


EXR8(42)-11K PFL GBK
Before Facelift RS Center Grille & Corner Grilles
Gloss Black Frame / Gloss Black Mesh Center Grille + Gloss Black Corner Vents
(upper frame corners angular - fitment for after facelift R8 models)
Poly/Plastic
$2898
$2599
Save $299
EXR8(42)-05 PFL CAR
R8 (TYP42) Pre-Facelift L&R RS Intake Grills
Real Carbon Fibre Frame / Gloss Black Mesh
Carbon Poly/Plastic
$1888
$1799
EXR8(42)-06 PFL GBK
R8 (Typ 42) Pre-Facelift L&R RS Intake Grills
Gloss Black Frame / Gloss Black Mesh
Poly/Plastic
$1599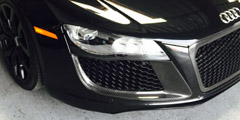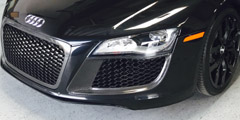 Before Facelift RS Grille Modifications in Carbon Fiber - August 2016
Click an image for a pop-up enlargement
RS Badging Audi R8

Part#

Description

Composition

Price

CDB-QUATTRO

Quattro logo (approx 18" wide)
Adhesive plus 3 screw mounting points

ABS
$88

DL-LOGO182 RS8
in black or chrome
Adhesive Backed Badging

ABS
$included



DL-LOGO474GL RINGS
Gloss Black Adhesive-Backed Nose Rings
ABS
$included