Owners of Audi A6 4B sedans and avants (narrow body) have an option of front bumper and side skirt modifications from German Designer and Manufacturer Rieger. Recognized for track-inspired design and rewarded with popularity - Rieger is recognised by Audi Enthusiasts around the world for German car tuning accessories and modifications.
Call toll-free today - a knowledgeable LLTeK Sales Rep will answer your questions regarding the Audi A6 and Rieger Body Kit Styling. Call now toll-free at 1 888 465 5835 in Noth America or International at 001 514 733 6333.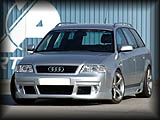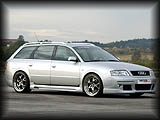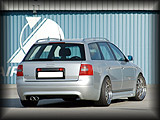 Click on any image to see an enlarged version
German styling Side Skirts for the Audi A6 4B (pre-facelift avant shown).
Body Kit Aero Styling for the Audi A6 4B Sedan / Avant
Part Number
Part Description
Material
Price
RIEA64B-04 (C5)
Front Bumper (No Wash/No PDC) 98>01
ABS
$460
RIEA64B-05 (C5)
Front Bumper (No Wash/With PDC) 98>01
ABS
$460
RIEA64B-06 (C5)
Front Bumper (With Wash/No PDC) 98>01
ABS
$460
RIEA64B-07 (C5)
Front Bumper (With Wash/With PDC) 98>01
ABS
$460
RIEA64B-08 (C5) FL
Front Bumper FL (No Wash/No PDC) 02>05
ABS
$460
RIEA64B-09 (C5) FL
Front Bumper FL (No Wash/With PDC) 02>05
ABS
$460
RIEA64B-10 (C5) FL
Front Bumper FL (With Wash/No PDC) 02>05
ABS
$460
RIEA64B-11 (C5) FL
Front Bumper FL (With Wash/With PDC) 02>05
ABS
$460
RIEA64B-12 (C5)
Front Spoiler Splitter For Bumper 4B-04
ABS
$213
RIEA64B-13 (C5) CAR
Front Spoiler Splitter CARBON Look For Bumper 4B-04->4B11
ABS
$233
RIEA64B-15 (C5)
EURO Front Bumper Supports (L&R) 98>01
REQUIRED for Bumper Fitment on North American models
-
$199
RIEA64B-15 (C5) FL
EURO Front Bumper Supports (L&R) 02>04
REQUIRED for Bumper Fitment on North American models
-
$199
RIEDE-BLUE
Micro DE Fog Light Kit Blue Glass-Yellow Beam REQUIRED
-
$99
RIEDE-WHITE
Micro DE Fog Light Kit White Glass-White Beam REQUIRED
-
$85
RIEA64B-02 (C5)
Side Skirt Left 98>04 *Mesh Included
ABS
$127
RIEA64B-03 (C5)
Side Skirt Right 98>04 *Mesh Included
ABS
$127


Sideskirts compatible with all A6 / S-Line / S6 years 2005 - 2011

RIEA64B-17L CAR
Side Skirt RS-Look (Left) Carbon Look
ABS
$355
RIEA64B-18R CAR
Side Skirt RS-Look (Right) Carbon Look
ABS
$355