you are here: LLTeK Home Page :: Press Release Central :: Quantum Aftermarket Grille for the Audi A6
June 19, 2012 - Quantum Grilles for Audi A6 S6 (C6) 2005 - 2011
Aftermarket Styling Parts for both the Pre-facelift & Facelift Models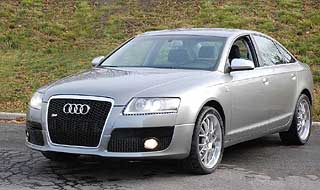 The Audi A6 (2008) pictured on your right was modified with a bumper cap / spoiler kit by Caractere and an OEM RS6 grille. The RS mesh surrounding the standard issue fog / driving lights is included with this modification and blends in (sweetly - no less) with the grille that features no visible license plate bar.

You'll have to admit that the results of this pre-facelift styling project are arresting, while on the other hand, we'll confess that the price tag for the RS6 grille borders on criminal..... However, we'll fly one in special from Germany if you won't settle for a substitute. No problem. In jurisdictions that do not require a front plate - the look is incomparable.

Audi A6 S6 C6 owners looking for a tuning grill upgrade are in the right place at the right time. Limited stock.
LLTeK Has 4 Dramatically Less Expensive Replacement RS Conversion Grilles


Click and View A6 S6 Grilles for Audi Page Here.
Call now for more info. Talk about your car or get a quotation.