you are here: LLTeK Home Page :: Press Release Central :: Rieger Body Kit for the Audi S4 B8
November 28, 2011 - Florida Sun Shines on Imola Audi S4 B8 by Rieger Tuning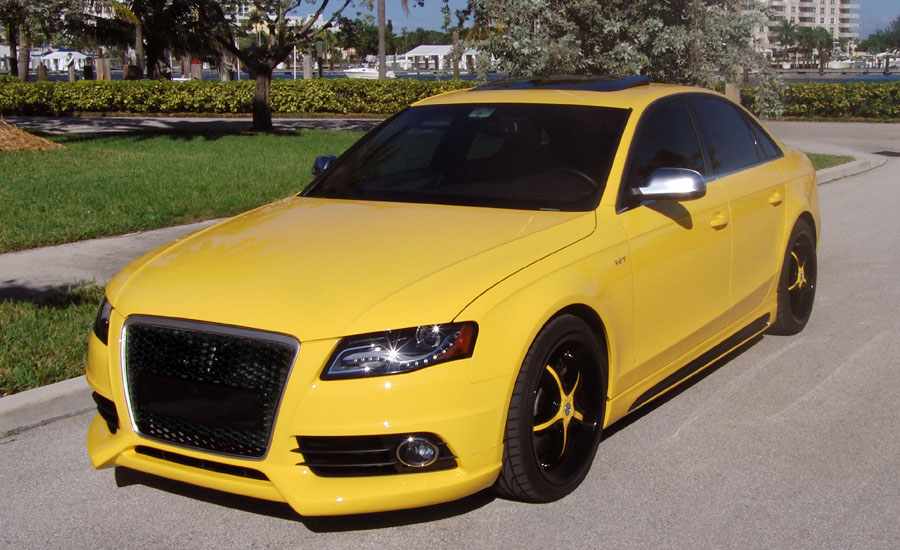 OH Yes! --- It's an Audi S4 B8 by Rieger and the Quantum RS Grille is badgeless by choice
.
The marina is a great place to arrive in your Audi S4 and thanks to Capt. Geordie, there are great pictures to share. This Imola Yellow S4 (color-code named after and in respect for the Italian track and speedway) has heads turning wherever it goes. No surprise here however, LLTeK has worked with Rieger Tuning since the WorldWideWeb really started to take off back in 1996 and Rieger is reknowned for its edgy look. Always a pleasure to see body kit modifications done to a T - as in, r-i-g-h-T or as the Germans say, "richtig."

The modifications by Rieger (with MatchPaint by LLTeK) were delivered to Capt. Geordie (not a real name but an e-mail handle) and installed in Florida. These performance styling parts from Germany (TUV approved, btw) have put an edge on Audi's street rocket - if you are an S4 enthusiast ... see for yourself - there are large pop-up pictures when you click on the thumbnail-sized images below; a front spoiler, carbon look vented sideskirts, rear valence match-painted with carbon look for quad exaust tips, and a Quantum RS grille add up to a machine that looks like it eats Bimmers for breakfast (note / disclaimer: it is important to mention that BMW M3s are not included on the morning menu - BMW M3s are on the dinner menu and if you're going to take that on, well - then, you'll need to work for it or take the express route and import an Audi RS4 from Europe.)

Rieger Tuning celebrates 25 years of design and manufacture this coming year and LLTeK is proud to showcase the design, manufacture, and results (our thanks again to Dale.)

If you have questions about this project, call toll-free in North America 1 888 465 5835, a knowledgeable and friendly Rep will provide answers. Call now and request a written quotation - you can find all details and prices concerning the Audi S4 B8 by Rieger here. Audi A4 B8 owners can see their Rieger body kit here.