December 30, 2002 - A4 Cabriolet Body Kit Styling Released by LLTeK
LLTeK is pleased to announce a premiere package of Body Kit Styling designed for the new Audi A4 8H Cabriolet by Caractere. Initial estimate of landing and US availability is pegged at April 2003. Current design specifications from Eurodesign House Caractere show 4 (four) new items. They include: 1) An add-over lower front valence giving this convertible a more masculine look. 2) A rear exhaust insert creating detail and a more technical design. 3) A tasteful low-profile rear wing and last but not least - 4) A new aggressive front grill. Photos below.

The overall appearance of the car with all 4 components installed produces a new special dynamic feel that will appeal to customers looking for a car design that is more beefy and masculine. All components will be available pre-painted as part of LLTeK's MatchPaint Program. In addition, LLTeK has just released an interior upgrade - an aluminum (matte brush finish) custom-fit pedal set for the manual automatic transmission Cabriolet - PLUS a matching Cabriolet "Dead Pedal".

LLTeK will also be releasing a high performance exhaust system for the 3.0 Liter FWD; and later a system for the 1.8T quattro version. Look for a new cellular telephone base accessory from LLTeK that features ergonomic integration into the center console that will correctly locate phones, PDA's GPS' etc. For more information contact LLTeK at 1-888-GO-LLTEK.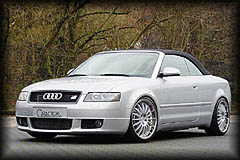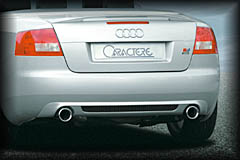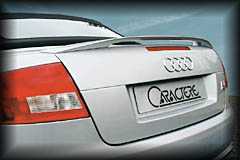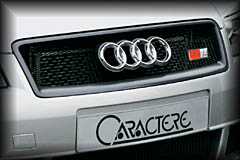 Click and and View LLTeK's A4 8H Cabrio Page



Click and and View List of ALL Press Releases



Click and Return to LLTeK Home Page