Body Kit Styling for the Audi A4 8H (B6) Cabriolet by Caractere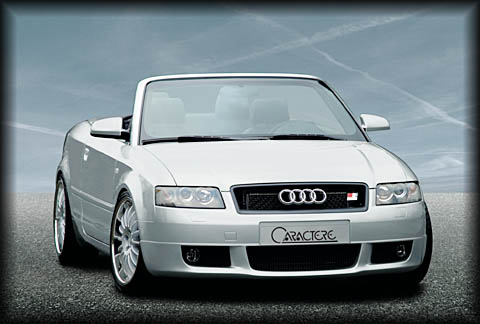 Caractere, the Belgian Euro-design and Manufacturing concern and LLTEK Motorsports are pleased to present a premiere package of Body Kit Styling designed for the Audi A4 8H (B6) Cabriolet. This premium choice body kit is made in PU-RIM and for new owners of the Audi B6 Cabriolet represents best value. Take a moment to view the images below and see the changes in the way others will see your car. It is a conservative 4-piece body kit comprised of a front spoiler / bumper cap, aftermarket replacement grille, trunk spoiler wing and rear valance. The styling is faithful to the Audi esthetic and the modifications represent a superb upgrade value.

Call now and speak with a friendly and knowledgeable LLTEK representative. LLTeK's business hours are Monday to Friday --- 8:30 AM to 5:00 PM EST (GMT -5) Call Toll-free in North America - 1 888 465 5835 or International at 001 514 733 6333, we have the answers to your questions.

Parts and Pricing Audi A4 B6 (8H) Cabriolet Kit 2003 > 2006
click on thumbnail images for enlarged pop-up versions
Part Number
Description
Price

CARA48H-34 (B6)
Front Spoiler / Full Bumper Cap
$766

CARA48H-36 (B6)
Caractere 3-D Front Grill
$377

CARA48H-35USA (B6/7)
North American Rear Valance 03>
$579
CARA48H-35 (B6/7)
European Rear Valance 03>
$499

CARA48H-37 (B6/7)
Rear Spoiler 03>
$525
A4 B6 8H Cabriolet Options 2003>2006
CARA48H-38 (B6/7)

Caractere Exhaust Tips
$147 ea.

part# CARA48H-35
rear valence

Part# CARA48E-13(B7)
fitment for OEM lighting>

part# CARA48H-37
trunk deck spoiler
Click thumbnail images for enlarged pop-up detail versions


Click Here Now and View Custom Wheels for Audi by Caractere