February 17, 2006 - LLTek Introduces Bumper/Grill Combination For Audi A8 1997-2003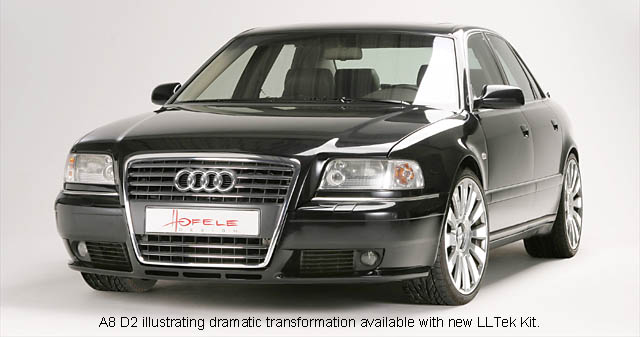 Audi A8 D2 (facelift model shown)- Converted to latest D3 appearance - See unmodified D2's below.
This is a fantastic, soon to be available, upgrade for the older A8 Aluminum D2 cars. If the car is a pre-facelift A8 (USA/CAN years 1997 to 2000), there will be a specific upgrade conversion kit. If the A8 or S8 is the facelift version (years 2001 to 2003), there is an alternative slightly different fitting kit. Either way, the transformation is fantastic, exciting and fully updates the car. Both "pre-facelift" and "with facelift" cars will look near identical. At date of publication, this upgrade is available only for the later D2 model (facelift) with a version for the first D2 model expected soon.


The easy-to-recognize distinguishing features between the A8 D2 pre-facelift (left) and A8 D2 Facelift (right) models as shown above, are the missing driving/fog lights and unaccented lower center grill on the earlier (pre-facelift) D2. In addition the facelift A8 D2's will have integrated turn signal/headlight housings as opposed the the pre-facelift's separate turn signal and headlight housings.
Click Here Now for More Details and Pricing
With this kit, an A8 D2 will immediately look close to Audi's new 2006 A8 D3 car with that new, distinctive large grill. The transformation is so dramatic that 99% of your friends will not know the car is a conversion. Because the kit uses the actual new large Audi grill, the change is authentic. To save each customer costs, the lower corner grills and foglights are re-used. Therefore what you get is a front bumper and a new grill and some unique accent and fill pieces.

Also available to complement the upgrade are side skirts (long and short version), a rear valance set up for a quad exhaust and a "shark's fin" that sits on top of the roof to complete the new look. Quantities are limited so place your orders now. Pricing will be announced shortly. As always, LLTek's MatchPaint program is in effect and it will save you money, time and effort. So, what do you think A8 fans? New life for an aging beauty!
For further information contact LLTek Toll-Free at 1 888 465 5835 or 1 888 GO LLTEK

Click and and View List of ALL Press Releases



Click and Return to LLTEK Home Page