Innovative Design - Body Kit Conversion Styling for Audi A8 D2

Click on image for pop-up details
This is a smart design upgrade for the Aluminum "space frame" D2 cars. If the car is a pre-facelift A8 (USA/CAN years 1997 to 1999), there is a conversion kit specifically for this model version. If the A8 or S8 is the facelift version (years 1999.5 to 2003), there is another slightly different model-specific fitting kit. Model versions and slight styling differences aside, the transformation is fantastic and fully updates the car. After modification both "pre-facelift" and "facelift" cars will look nearly identical.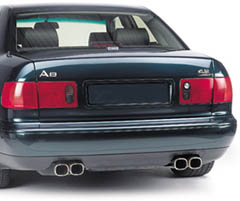 With these modifications, your A8 D2 will immediately take on the contemporary styling of Audi's 2006 A8 D3 car with that distinctive, large grill. Because the kit actually employs an Audi OEM grille, the change is entirely authentic. This modification thoughtfully incoporates the original lower corner grills and foglights into the design and those items are recycled into the updated presentation. Also available to complement the upgrade are side skirts (long and short version), a rear valance set-up for quad exhaust and a "shark fin" antenna cover that is an easy roof-top mount to complete the new look.
As always, LLTek's MatchPaint program is in effect and it will save you money, time and effort. If you have questions call toll-free or contact us via e-mail - LLteK will be pleased to prepare a quotation.
How-to-Distinguish between a "Pre-Facelift" A8 D2 and a "Facelift" A8 D2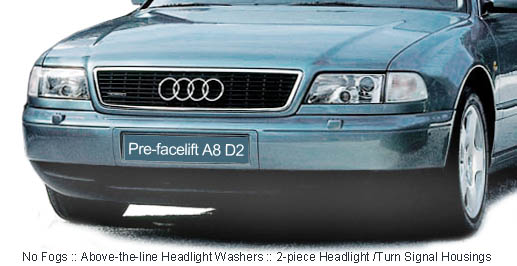 Pre-Facelift A8 D2 headlight washers are permanent above-the-line fixtures
(as shown above) not discreet mechanical pop-ups

Pre-Facelift A8 D2 1997>2001 is NOT equipped with driving/fog lights (as shown above).
Facelift A8 D2 2001>2003 is equipped with driving/fog lights (as shown below).
Facelift A8 D2 2001>2003 sports an accented lower center grill (as shown below)
Facelift A8 D2 2001>2003 will exhibit integrated one-piece turn signal/headlight housings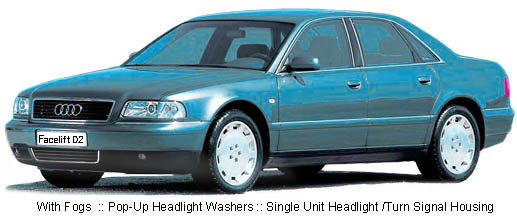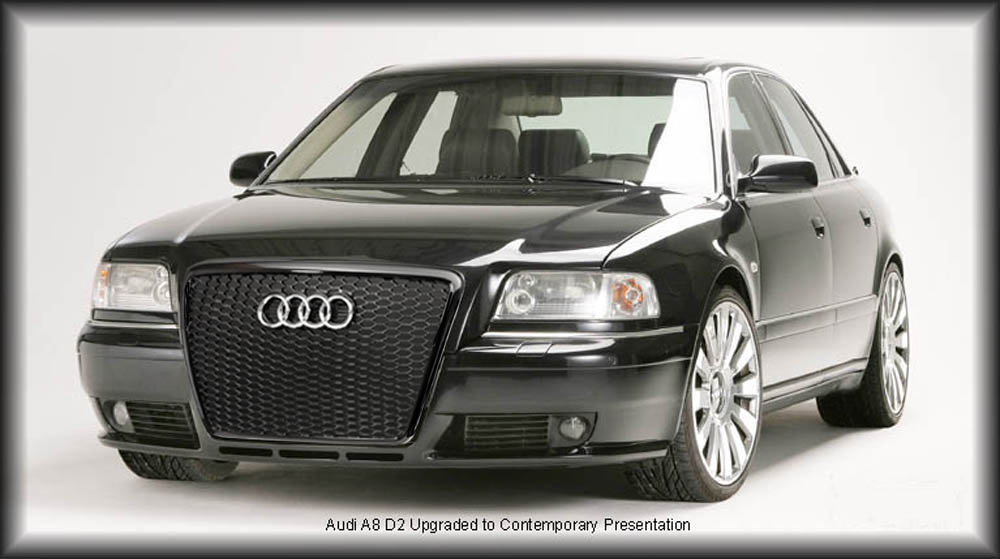 Modified Facelift A8 D2 2001>2003 still shows corner fogs, 1-piece headlights and pop-up headlight washers.
A8 S8 D2 Body Kit Styling Options

Part #
Description
Model Compatibility
Price

HFA84D-05(D2)
SG Front Bumper**
(No PDC) pre-Facelift model
PDC=Parking Distance Control
$1539
HFA84D-01(D2) FL
SG Front Bumper**
(No PDC) Facelift model
PDC=Parking Distance Control )
$1739
HFA84D-02(D2) FL
SG Front Bumper**
(With PDC) Facelift model
PDC=Parking Distance Control
$1739



Click on image for pop-up details!


**Does not include grill. OEM Grill may be purchased at an Audi Dealer.
Kit compatible with OEM A8 - V8, Quantum RS, OEM W12 or OEM S8 Grill.


HFA84D-09(D2)
Headlamp
Washer Covers
Optional caps for headlamp washer ports
- if headlamp wash system is retired.
$88

Part#
Description
Price
*Conversion Kit can incorporate OEM Parts not included in Price of Bumper
OEM parts may be purchased separately through LLTeK or at your local Audi Dealership.

HFGRILL-7362-H
Hofele RS Grill - NO PDC
$444
HFGRILL-7362-H
Hofele RS Grill - WITH PDC
$444
Part #
Description
Model Compatibility
Price

HFA84D-07(D2)
Rear Spoiler
Fitment for both pre-Facelift model
and Facelift model
$388
HFA84D-11(D2)
Quad Tip Sport Mufflers
Fitment for All Years with modification to OEM rear Valence: Exhaust Systems for 2.7, 3.7, 4.2
S8, 2.5TDI, 3.3TDI
$1155

Audi A8 D2 Styling
updated February 20, 2013
Click on any thumbnail image to see an enlarged pop-up version

Prefacelift Upgraded
Part# HFA84D-05(D2)

Rear Spoiler
Part# HFA84D-07(D2)

Prefacelift Upgraded
Part# HFA84D-05(D2)