LLTeK is now releasing details of an outstanding body kit upgrade for the older Audi A6 4B (C5) cars - covering model years 2002 through 2005 in the USA and Canada. The RS Look conversion kit from LLTeK bumps the car from previous generation styling into Audi's contemporary style "big grill" signature of the current generation. This isn't some buy-a-new-grill-kludge, but instead it is a German-designed and manufactured conversion kit that older Audi A6 cars deserve. Ultra-high quality precision-molded fiberglass components are the hallmark of this Euro Tuner's efforts. Quality design and manufacture are an unbeatable combination for the discerning enthusiast. The A6 coversion kit actually features styling that is indicative of Audi's hot new street legal racer - the all-new, super RS C6 4F - complete with OEM RS front grill and RS lower corner grillwork.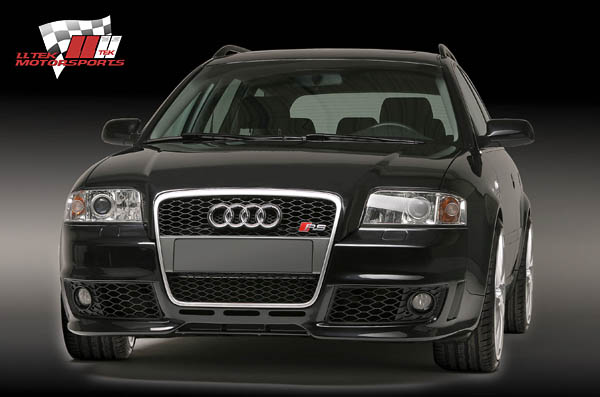 The conversion kit totally updates and transforms the older A6.


Pricing for the bumper is not currently available however it is expected to be in the $1499.00 - $1599.00 range plus bar and holder. Availability of the "facelift versions" (2000-2004 A6 cars ) is scheduled in late February / early March 2007 with orders currently being accepted. No date has been set for a release of the pre-facelift A6 version (1998-2000), however it is expected to follow shortly. A rear bumper similar in design to the new RS6 is also planned plus sideskirts. Current plans do not include the widebody 4.2 model but demand will be the deciding factor.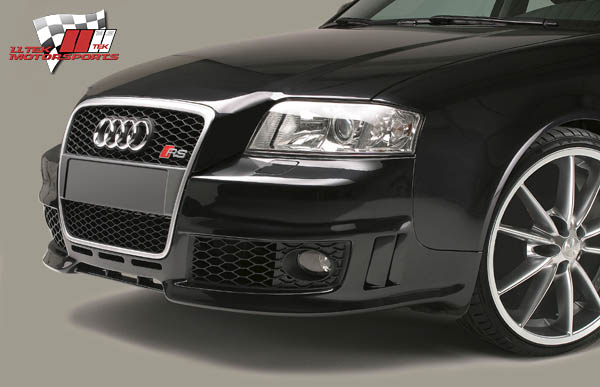 RS Badging will be available as an option for the conversion kit.
LLTek will offer 8 variations of the front bumper/grill kit:
USA / Canada pre-facelift
USA / Canada preface with PDC
Euro pre-facelift
Euro pre-facelift with PDC
USA / Canada with facelift
USA / Canada facelift with PDC
Euro with facelift
Euro with facelift with PDC
(PDC is Parking Distance Control, also called Parktronic.)

note: Euro versions adapt to the European impact bar while USA / Canada versions are slightly different and will require replacement impact bar holders and bars for both the pre-facelift and facelift variations. Bar holders and bars are the Audi OEM versions and will be supplied by LLTek.
Click and View Pricing Details for Audi A6 2002 to 2004 BodyKit Styling by Hofele