LLTek has an outstanding body kit upgrade for the Audi A6 4B (C5) cars - covering model years 2002 through 2004 in the USA and Canada. The RS Look body kit styling from Hofele Design bumps the car from previous generation styling into Audi's contemporary "big grill" signature of the current generation. This isn't some buy-a-new-grill-kludge; this is German tuner Hofele's (designed and manufactured) conversion kit that pre- facelift generation Audi A6 / S6 cars can slip into. Precision-molded plasto/fiberglas reinforced components are the hallmark of this Euro Tuner's efforts. The A6/S6 coversion kit actually features styling that is indicative of Audi's street legal racer - the RS C6 4F - complete with OEM RS front grill and RS lower corner grillwork.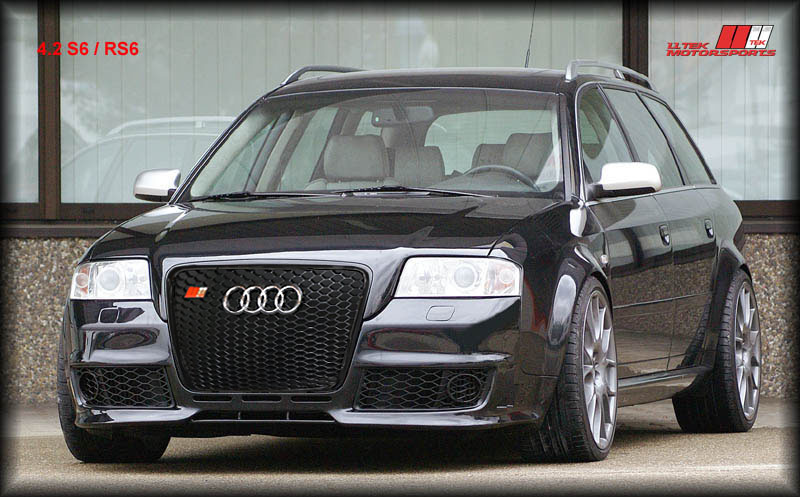 Widebody 4.2 V8 - note flared fenders and new RS Grille
Quality design and manufacture are an unbeatable combination for the discerning enthusiast.

For further information contact LLTek Toll-Free now at
1 888 465 5835 or 1 888 GO LLTEK
An LLTeK Sales Rep will answer your questions in detail.
Body Kit Styling Schedule for the Audi A6 C5 (Facelift) 2002 - 2004
Click Here for 8 Cylinder Pricing


Part#
Part Description
Price
HFA64B-01 (C5)
RSA 6 CYL Front Bumper (NO PDC)
without PDC(Parking Distance Control) 02>05
Does not include grille - See Grille options below
Bumper Conversion also Requires HFA64B-03 (USA and Canada)
$1444



HFA64B-02 (C5)
RSA 6 CYL Front Bumper (W/ PDC)
with PDC (Parking Distance Control) 02>05
Does not include grille - See Grille options below
Bumper Conversion also Requires HFA64B-03 & 05 (USA and Canada)
$1444


Recently completed (2015) Hofele conversion featuring RS Grille.

5-LED Daytime Running Lights
*Requires HFGRILL-7456-RS4 - RS4 Lower Fog Light Grills
HF-LED-C
Chrome Reflector - Clear Lens
$444
HF-LED-B
Chrome Reflector - Smoke Lens
$466
HFA64B-03 (C5)
A6 6 CYL Front Bumper Supports (L&R)
$222
HFA64B-04 (C5)
Optional caps for headlamp washer ports
Required for cars without headlamp washers
$66
HFA64B-05 (C5
A6/S6/RS6 PDC Cable
$122
Quantum Sport Grille - Piano Black Gloss Finish - Fitment for Audi A6 C5 RS Conversion
RS GRILLE Styling with or without PDC (Parking Distance Control) - Please Specify


Click for enlarged pop-up
Design by Quantum
Hi-Gloss Piano Black F Fitment for RS4, S4 , and S-Line
Part#EXS48E-01(B7)
Price - $699
Rings, Holder and Badging optional




>
Reflective Frame Quantum Sport Grille - Fitment for Audi A6 C5 RS Conversion
RS SPORT GRILLE Styling with or without PDC (Parking Distance Control)


Click here now for Large Pop-Up Version of Quantum Grille
Design by Quantum
Reflective Chrome Frame with Matte Black Mesh
Please specify PDC or Non-PDC at time of ordering
Part# QGER-A48E(B7)S CHBLK

Price - $488
Rings, Holder and Badging optional



Quantum Piano Black Sport Grille - Fitment for Audi A6 C5 RS Conversion
SPORT GRILLE Styling with or without PDC (Parking Distance Control)


Click for enlarged pop-up image of grille

Quantum Grille released July 2013
Glossy Piano Black Finish
Please specify PDC or Non-PDC at time of ordering
Part# QGER-S48E (B7) BLK
Price - $488
Rings, Holder and Badging optional



OEM RS Grilles - Direct from Germany

This E-Spec OEM Modified grille compatible with RS6 Look Bumper Upgrade.

HFGRILL-7052-RS4
RS4 Grill - Silver Frame - No PDC


$1388
HFGRILL-7052-P-RS4
RS4 Grill - Silver Frame - With PDC


$1388
HFGRILL-7052-RS4-B
RS4 Grill - Black Frame - No PDC


$1388
HFGRILL-7052-P-RS4-B
RS4 Grill - Black Frame - With PDC


$1388
*Conversion Kit requires OEM Parts not included in Price of Bumper
These parts may be purchased separately at your local Audi Dealership.
*HFGrill-7456-RS4
OEM RS Fog Grilles
$155




Body Kit Styling Schedule for the Audi A6 C5 (Facelift)
8 Cylinder - A6 4B (C5) (Includes S6 & RS6)

Part Number
Part Description
Price
HFA64B-06 (C5)
RSA 8 CYL Front Bumper (NO PDC)
without PDC(Parking Distance Control) 02>05
Does not include grille - See Grille options below
Requires HFA64B-03 & 09 (USA and Canada)
$1822
HFA64B-07 (C5)
RSA 8 CYL Front Bumper (W/ PDC)
with PDC (Parking Distance Control) 02>05
Does not include grille - See Grille options below
Requires HFA64B-03, 05 & 09 (USA and Canada)
$1922
HFA64B-03 (C5)
A6/S6/RS6 8 CYL Front Bumper Supports (L&R)
$222
HFA64B-08 (C5)
A64B(C5) RS6 8 CYL Headlamp Washer Covers
$77
HFA64B-05 (C5)
A6/S6/RS6 PDC Cable
$122
HFA64B-09 (C5)
A6/S6/RS6 8 CYL Front Euro Crash Bar
$399
Quantum Sport Grille - Piano Black Gloss Finish - Fitment for Audi A6 C5 RS Conversion
RS GRILLE Styling with or without PDC (Parking Distance Control) - Please Specify


Click for enlarged pop-up
Design by Quantum
Hi-Gloss Piano Black F Fitment for RS4, S4 , and S-Line
Part#EXS48E-01(B7)
Price - $699
Rings, Holder and Badging optional




>
Reflective Frame Quantum Sport Grille - Fitment for Audi A6 C5 RS Conversion
RS SPORT GRILLE Styling with or without PDC (Parking Distance Control)


Click here now for Large Pop-Up Version of Quantum Grille
Design by Quantum
Reflective Chrome Frame with Matte Black Mesh
Please specify PDC or Non-PDC at time of ordering
Part# QGER-A48E(B7)S CHBLK

Price - $488
Rings, Holder and Badging optional



Quantum Piano Black Sport Grille - Fitment for Audi A6 C5 RS Conversion
SPORT GRILLE Styling with or without PDC (Parking Distance Control)


Click for enlarged pop-up image of grille

Quantum Grille released July 2013
Glossy Piano Black Finish
Please specify PDC or Non-PDC at time of ordering
Part# QGER-S48E (B7) BLK
Price - $488
Rings, Holder and Badging optional




OEM RS Grilles - Direct from Germany

This E-Spec OEM Modified grille compatible with RS6 Look Bumper Upgrade.

HFGRILL-7052-RS4
RS4 Grill - Silver Frame - No PDC


$1388
HFGRILL-7052-P-RS4
RS4 Grill - Silver Frame - With PDC


$1388
HFGRILL-7052-RS4-B
RS4 Grill - Black Frame - No PDC


$1388
HFGRILL-7052-P-RS4-B
RS4 Grill - Black Frame - With PDC


$1388
*Conversion Kit requires OEM Parts not included in Price of Bumper
These parts may be purchased separately at your local Audi Dealership.
*HFGrill-7456-RS4
OEM RS Fog Grilles
$155



Tuning and Performance Suspension Upgrades

HFA64B-20 (C5)
All Models Fitment
Front and Rear Anti-Roll Kit for Audi A6
Quattro - Sedan and Avant
Adjustable - 32mm (front) and 22mm (rear)
$888
HFA64B-20 (C5)
All Models Fitment
Front and Rear Anti-Roll Kit for Audi A6
FWD - Sedan and Avant
Adjustable - 32mm (front)

$544