March 7, 2007 - LLTek Introduces Hofele Bodykit Styling for Audi Q7



Photos of an OEM Audi Q7 (on the left) - "before" and an Audi Q7 tuned by Hofele (on the right) - "after".
Hofele Design, distributed exclusively by LLTeK Motorsports, has released images for its Body Kit Styling on Audi's first full-size luxury SUV - the Q7. This kit represents LLTeK's third offering for owners of Audi's land yacht and the results, as shown above, are impressive. The Hofele kit is a complete transformation that includes wheels, lighting and unique exhaust and aero fittings. The front bumper incorporates an Audi OEM Grill (S8, V8 or W12) into the transformation and further increases customer choice. Pricing remains to be established but for the most part will reflect the manufacturer's high standard and committment to quality and unique design.
Call LLTeK toll-free at 1 888 465 5835 with your questions and discuss the finer points today.


Customers are offered the choice between three distinct OEM grills (S8, V8 or W12) for this conversion program.
Hofele Design Releases 1st Photos of Syling Kit for the Audi Q7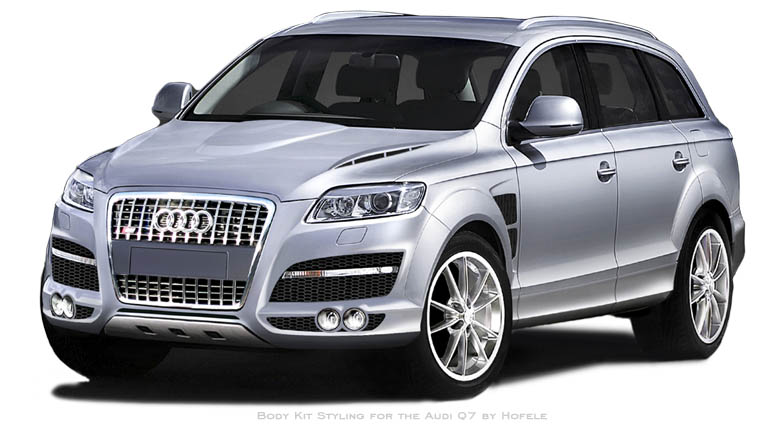 Audi Q7 illustrated with complete kit and 20" Largo Wheels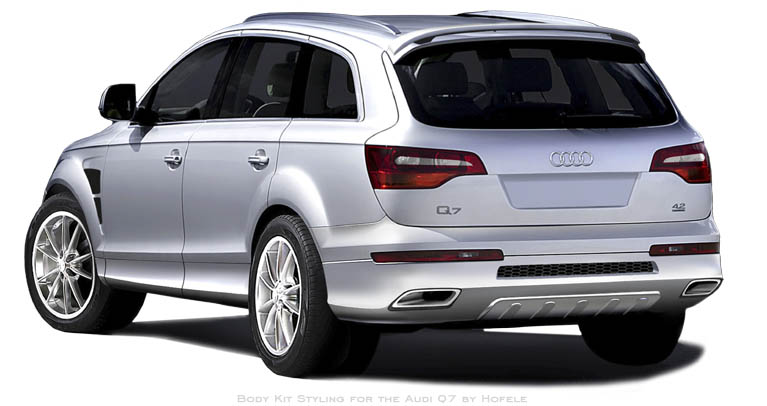 This conversion features a rear valence that will fit both the entry Q7 and the S-Line Q7.

For More Details and Pricing - Click Here Now!

Click and and View List of ALL Press Releases



Click and Return to LLTEK Home Page