Hofele Design, first distributed in North America by LLTeK Motorsports, has released images for its Body Kit Styling on Audi's first full-size luxury SUV model - the Q7. This kit represents LLTeK's third offering for owners of Audi's land yacht and the results, as shown above, are impressive. The Hofele Q7 styling kit is a complete transformation that includes wheels, lighting, and exhaust tip upgrades. There are additional tuning choices beyond the exterior - you can find wheels, horsepower boost and lowering devices in the pricing tables below.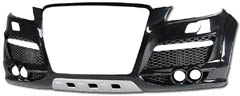 The GT 760 styling kit from Hofele is available in both basic and wide versions - the principal difference between the two being a small set of wheel arch extensions that fill the machine out. On the other hand, the GT 770 is the fully pumped version with large wheel arch extensions and vented front fenders. The front bumper is identical across all three options and will incorporate an aftermarket Quantum RS grille or an Audi OEM Grille (S8, V8 or W12). Package pricing for all 3 versions is listed with components and pop-up images.
If you have any questions regarding the GT 760 / GT 770 styling for the prefacelift Audi Q7 - give LLTeK a call on the toll-free - We will be pleased to provide answers. After Hours?
email here
.
Sportster GT 770 Package HFQ74L-30 Pricing - $13,366
For vehicles with or without PDC (parking sensors) / headlamp washers
not compatible with vehicles equipped with ACC (adaptive cruise control)

Sportster Package includes:
Complete Front Bumper
LED DRL's and Fogs
Replacement Front Grille
Vented Front Fenders and Wheel Arch Extenders
Rear Valance
Oval Quad Exhaust Tips
Rear Roof Spoiler
Lower Door Panel Strips
Certain parts can be purchased individually
Wide GT 760 Package HFQ74L-31 Pricing - $9,122
For vehicles with or without PDC (parking sensors) / headlamp washers
not compatible with vehicles equipped with ACC (adaptive cruise control)

Wide Body Package includes:
Complete Front Bumper
LED DRL's and Fogs
Replacement Front Grille
Vented Front Fenders and Wheel Arch Extenders
Rear Valance
Ova lQuad Exhaust Tips
Rear Roof Spoiler
Small Wheel Arch Extensions
Lower Door Panel Strips & Air Intakes
Certain parts can be purchased individually
GT 760 Package HFQ74L-32 Pricing - $7,488
For vehicles with or without PDC (parking sensors) / headlamp washers
compatible with vehicles equipped with ACC (adaptive cruise control)

Series 7 Base Package includes:
Complete Front Bumper
LED DRL's and Fogs
Replacement Front Grille
Vented Front Fenders and Wheel Arch Extenders
Rear Valance
Oval Quad Exhaust Tips
Rear Roof Spoiler
Lower Door Panel Strips & Air Intakes
Certain parts can be purchased individually

Hofele Design Bodykit Styling for the Audi Q7 (4L)
2006 , 2007, 2008, and 2009



Part#
Description
Composition
Price

HFQ74L-01
GT 760 Front Bumper
Specify use Without Parking Distance Control
See Required Part# HFQ74L-03
PU-RIM
$2133


click on thumbnail for enlarged pop-up version


HFQ74L-02
GT 760 Front Bumper For
Specify use With Parking Distance Control
See Required Part# HFQ74L-03
PU-RIM
$2133
HFQ74L-11


click on image for enlarged pop-up version

GT Sportster 770 Wide-body Arch Extension Kit
2x Special Air Intake Front Fenders
2x Front Bumper Blendings
6x Rear Fender & Door Extensions
fitment for Hofele GT 7 series bumper HFQ74L-01 / 02

PKG
$6344
Audi Q7 2006 -2009 Quantum sport styling grille

Now $388.50 When Purchased with Front Bumper

SPORT GRILLE with or without PDC (Parking Distance Control)



Audi Q7 (4L) custom styling and bodykit upgrade grille

SPORT GRILL without PDC (Parking Distance Control)

Design by Quantum
Boxed Matrix in Piano Black


$488
(without PDC Option)
Rings, Ring Holder and Badges Optional
part# QGYT-Q74L PFL GBK


This GRILLE incompatible with Audi models possessing Adaptive Cruise Control
Replacement grille for the Audi OEM - Fitment for pre-facelift Audi Q7 2006-2009



Part#
Description
Price
*Conversion Kit can incorporate OEM Parts not included in Price of Bumper
OEM parts may be purchased separately through LLTeK or at your local Audi Dealership.


requires paint
HFGRILL-7362-H
Hofele RS Grill - with or without PDC
$488
Part#
Description
Composition
Price

HFQ74L-03

Fog Light and DRL Light Set
click on image for enlarged pop-up version

PU-RIM
$577

HFQ74L-09
Small Wheel Arch Extension
use with bumper HFQ74L-01/02 only
click on image for enlarged pop-up version
OE-RIM
$1799

HFQ74L-06

Bonnet Powerdome
click on image for enlarged pop-up version

PU-RIM
$388
HFQ74L-25

Symetric Hood Vent Accents
cosmetic / non-functional
click on image for enlarged pop-up version
PKG
$455
HFQ74L-19
Steering Wheel
Features Leather/Carbon Fiber/Alcantara Finish
$3333

click on image for enlarged pop-up version
HFQ74L-20exch
Steering Wheel Exchange
for Item - HFQ74L-19
$1999
HFQ74L-18

Carbon Fiber Mirror Covers
click on image for enlarged pop-up version

Carbon Fiber
Pricing
on
request
HFQ74L-05

Lower Door Trim with Rear Intake
not compatible with S-Line
click on image for enlarged pop-up version
OEM + Urethane
$1155

HFQ74L-07

Lower Door Trim required on non S-Line vehicles
to install wheel arch extensions
click on image for enlarged pop-up version
OE Materials
$944
HFQ74L-14

Rear Intake Scoops for S-Line (l & r)
click on image for enlarged pop-up version
Urethane
$233

HFQ74L-10

Roof Spoiler
click on image for enlarged pop-up version
Urethane
$777

HFQ74L-23

GT 760 Rear Valence
Compatible with or without towing
fitment optimised for part# HFQ74L-24
click on image for enlarged pop-up version
PU-RIM/
$1755
HFQ74L-24

Interlaced Oval Tips (quads)
115 x83mm per tip
clamp & weld
click on image for enlarged pop-up version
Stainless Steel
$777


click here for suspension lowering device pricing


HFQ74L-15
Multi Level Settings - Electronic Lowering Module
Approximately 40mm drop front - 30mm drop rear
+ / - 20mm fine adjustment
MAX lowering 60mm front & 50mm rear
Includes on/off cabin switch
Plug n Play
Speed-related Deactivation for Safety and Comfort
TÜV Approved
For Use with OEM
Air Assist Suspension Only
$2555
HFQ74L-13
Sport Lowering Springs
for vehicles without Electronic Suspension
Steel
35mm front / 35mm rear
$599
HFQ74L-12
15mm per side front / 25mm per side rear
Steel

$644
HFQ74L-16
25mm per side front / 25mm per side rear
Steel

$788
HF 6463
25mm per side front / 35mm per side rear
Steel
$922
HF 9663
35mm per side front / 45mm per side rear
Steel
$999


Audi Q7 illustrated with complete GT 770 Widebody kit from Hofele