May 28, 2007 - Conversion Bodykit for Audi A6 (2002-2004) Hits the Bull's Eye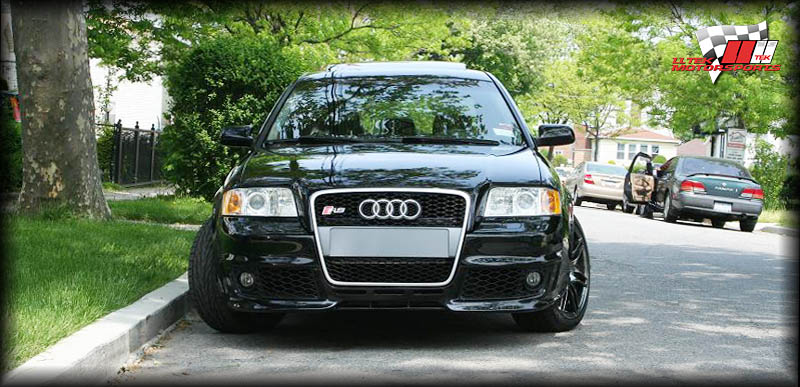 Photo of an Audi A6 C5 with RS Six Look Bumper, OEM Grill and Hood Extension installed.
Feedback and photos from Audi enthusiasts often tell a great story. This is one of them. The photos here clearly show the successful results of converting a facelift A6 (C5) model to the look of the new RS6 with the Audi signature single frame look. The conversion is more than your basic bolt-on, however, only the A6 hood nose is extended with the specially-supplied kit part that requires blending. European impact bar carriers (also required) ensure the true Euro profile up front.

Grill components are OEM and completing the look is mesh supplied with the true RS pattern. Side skirt upgrades are available for this car and will complement the look. And also available now - a new RS6(C5) rear bumper that remains true to the design. The RS Six Look from LLTeK delivers - see photos below. Currently, there are no plans to produce this conversion kit for the A6(C5) pre-facelift car but, there are definitive plans to have a conversion kit that will fit the wide body 4.2, S6 and RS6. Availability for the 4.2 is expected sometime July/August 2007.
Click Here for Pricing on the RS Six Body Kit Styling for the Audi A6
Click Here for Images and Description of LLTeK's RS Six Sedan Trunk Spoiler
Call LLTeK toll-free today - at 1 888 465 5835 or 1 888 GO LL TEK.
Photos of Completed RS Six Syling Kit for the Audi A6 C5
Click on an image for an enlarged version




PKG Composite Manufacture - Highest Quality Polyester Fiberglass
Formed retention up to 110° Celsius (230° Fahrenheit)
Flexible polyester resin with flexible gel coat
Delivered with basic black primer coat
Mounting/fitment to original hang points
Manufactured with Euro Transport Authority (TÜV) Certification



Click and and View LLTeK's A6 4B C5 Facelift Page



Click and and View List of ALL Press Releases



Click and Return to LLTeK Home Page