Michael E - In His Own Words
Hey there, I'm Michael. I am the proud owner of my 2002 Audi A6 with the big grille hofele conversion. Along with purchasing this vehicle came plenty of journeys. It's original state was fair, but not exactly my trophy car. I decided to make a few ... modifications, if you will:





I started with installing the 19 inchers on all of my wheels with a deep aluminum lip on the back and shallow in the front. These black rims really made the car pop. After lowering the vehicle body, I added my exhaust, after-market tail lights, and a very unique rear window spoiler. Eventually, I added 5 television screens ( Indash, front seat head rests, back seat head rests.) along with a dvd player and state-of-the-art sound system. Minor additions were than added up until my most recent and drastic transformation on my front bumber. The original bumper was old-fashioned, not sleek, nor sexy. With this new addition I've received so much praise due to the stylish, and very modern take on the original look.





Everyday I get compliments from strangers asking what kind of model , and what year it is as they are stunned by how original, new-looking, and expensive it looks. Thanks to this change my life's taking a whole new light. My future upgrades include: lambo-doors, macthing rear bumper and side skirts, and definitely new head lamps. Lots of thankyous to LLTEK, your products are truly amazing. I recomend this conversion to anyone who seeks modifications to they're vehicles.



UPDATE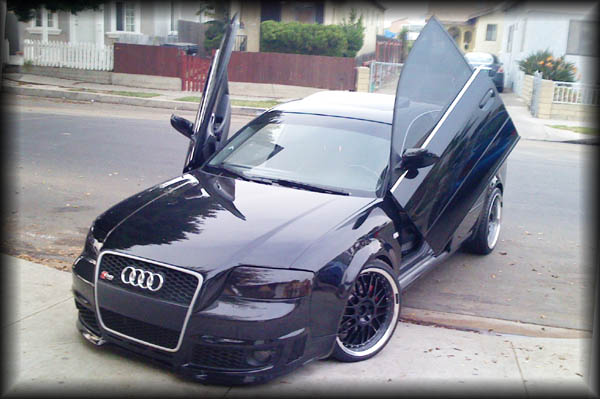 Mike's 2002 Audi A6 C5 with Lambo Doors installed - project well done.

If you have questions about this body kit or any other Audi tuning project offered by LLTeK - Call toll-free now at:
1 888 465 5835 or 1 888 GO LL TEK.... a friendly and knowledgeable Sales Rep will happy to answer your questions.

If you have completed a project (like Michael E) and you think the world should see it - contact LLTeK. We think the world should see it too!
Click Here Now and View Rs Six Kit Details