December 7, 2007 - Conversion Kit for Audi S6 RS6 Widebody V8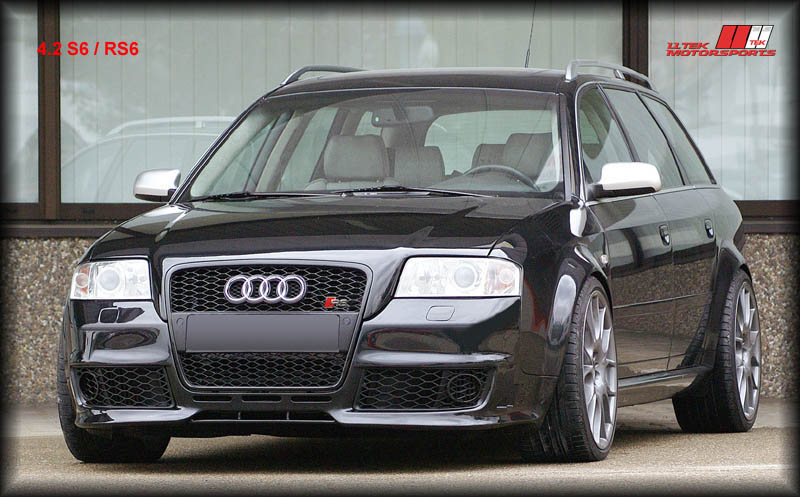 For RS6, S6 and A6 4.2 owners only (C5).
Today's A6 (3.2 and 4.2 C6 cars) now carry Audi's signature big single-frame grill. Now older RS6, S6 and A6 4.2 (C5) cars can also be fully updated to the look of the newer RS6 car (see comparative picture). This new series of front bumper conversion parts fit the 4.2 wide body series of A6 (C5) cars. It's basically a switch and install process after the small hood extension piece has been blended into place.

With this conversion, the front bumper profile has been designed to reproduce the more aggressive shallow Euro bumper profile. This means that after installation, US and Canadian cars will be approximately 2 to 3 inches shorter in length. This snub-nose look is recognised by American carmakers and in recent years has been imitated. LLTeK supplies the internal components (two) necessay to achieve the look, and while theses parts (impact bar and stanchions) add moderately to the cost, the trade-off to the Euro profile is well worth the investment.

Only US and Canadian car owners will need to make changes to the bar and bar holder - owners of transported Euro models are good to go with this kit as is. RS6 owners have reported a significant gain in power due to far more efficient intercooler functionality. New to the program is Audi's large single-frame grill with optional black outer bezel, although the the RS silver bezel still remains in the program. This kit requires grill modification (engine side) to ensure correct fitment and does not accomodate oem fog positioning.

For more information and pricing on this bodykit for the Audi A6 and S6, click here now.

Click and and View List of ALL Press Releases



Click and Return to LLTeK Home Page