August 25, 2008 - LLTeK Releases New Bodykit Options for Audi A4 B8 Sedan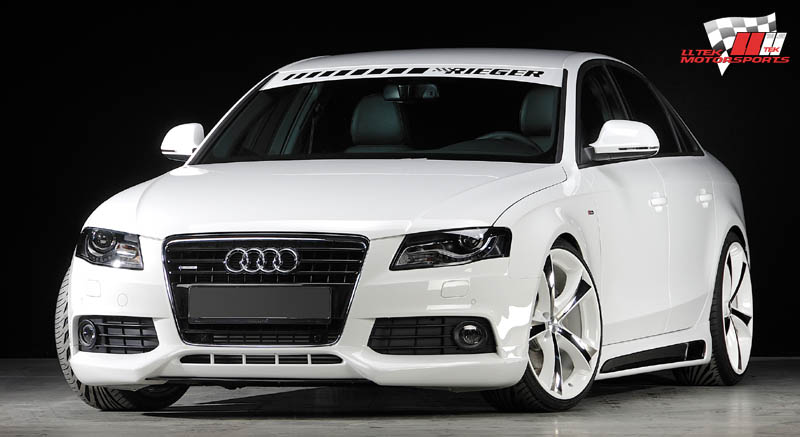 A4 B8 Front Spoiler with Carbon Fiber Look Splitter Option - Part #RIEA48K-01 (B8) and - Part #RIEA48K-03 (B8) Car
The next generation A4 (B8) is just around the corner and will arrive stateside this fall. It's a great new Audi that is bound to be successful. The car shares the same chassis as the new A5/S5, this being the B8 platform. The first styling kit is already available.

It is no coincidence that the look of the car and the new styling kit is very close to the Audi A5/S5. So when you look at the pictures (no drooling on the screen please), look at both cars for design similarities in the details. In fact, these photographs of the new Audi A4 styling kits supplied by Rieger Tuning make it difficult to tell them apart other than the the A5/S5 is a 2 door coupe. If you liked the A5/S5 body kit that LLTeK released last november (and who does not) and you need the practicality of a 4 door, then this tuning kit was made for you. Carbon look options are available as well as LLTeK's MatchPaint program.

These bodykits from Rieger are precision molded using automotive grade ABS plastics for quality in detail and long life. Fitment, as usual, is excellent and despite the high Euro, prices still hold value.
Click here now and see slideshow




Click the image or link above and view Rieger Tuning body kit for the Audi A4 8B in detail

If you have questions about this Audi A4 B8 bodykit or any other tuning project for Audi cars offered by LLTeK - Call toll-free now in North America: 1 888 465 5835 or 1 888 GO LL TEK.... a friendly and knowledgeable Sales Rep will be happy to answer your questions.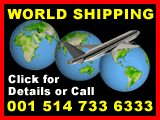 Click and View Pricing for Rieger Audi A4 B8 Body Kit Styling

Click and and View List of ALL Press Releases



Click and Return to LLTeK Home Page