May 29, 2009 Rieger Tuning Body Kit Hits VW Scirocco Downtown

Rieger Tuning takes body kit styling for the VW Scirocco (genIII) seriously, as usual, and puts an edge on it.
Update: See VW Scirocco Parts List and Price Schedule - Bodykit Styling by Rieger - Posted Here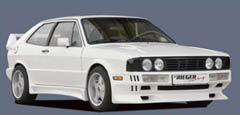 Rieger Tuning has a reputation for sharp, edgy, and aggressive body kit styling. They have a history with this line from VW all the way back to when it was in its first generation (see photo at left). When the Scirocco came back into production - tuners around the world knew that Rieger would be offering up something special and they were right. These photos have been available for some time now and it's still not a sure thing that the Scirocco will make it to North America; but the car deserves attention and Rieger's sense of design styling make this post worthwhile. If you have seen these before they're worth a second look - and if you haven't seen these images before... well then enjoy.
| | |
| --- | --- |
| | |
If you own a German-engineered automobile and have questions regarding your body kit styling project - then call and speak with an LLTeK Rep who will answer your questions or prepare a quotation for your project - we can be reached toll-free in North America at 1 888 465 5835 or International at 001 514 733 6333.
Click and and View List of ALL Press Releases




Click and Return to LLTeK Home Page