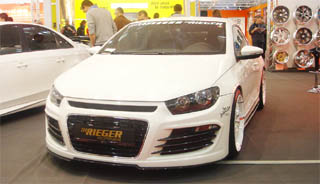 LLTeK has superb body kit styling parts for your Volkswagen Scirocco designed and manufactured by Rieger. The materials used in these aftermarket tuning modifications (ABS plastic) are transformed from raw pellets to quality controlled final form on-site. This means your tuning project will be delivered with zero worries about installation and fitment. LLTeK and Rieger have collaborated on transcontinental body kit tuning projects since 1996 and the kit for the VW Scirocco produced by Rieger Tuning (photo on right - Geneva - March 2009) does not deviate one iota from the reputation of excellence in design and manufacture established and maintained some 20-odd years now.

The Rieger project for the VW Scirocco consists of many options in each category: Front Bumper or Front Spoiler with optional splitter, Fog Grillles, Side Skirts, and Rear Valences that can be configured for your original Scirocco exhaust or to accomodate stainless steel custom sport mufflers. Rieger designs are celebrated for their aggressive and edgy track cues. This performance styling kit for the Volkswagen Scirocco holds true to the Rieger hallmarks. Call LLTeK with your questions about how modifying your car can be achieved in the most efficient and direct ways.

In North America Call toll-free 1888 465 5835 - International calls to LLTek will be answered at 001 514 733 6333.