When owners of fine cars are searching for a reasonable / reliable route to improve or upgrade, the most difficult aspect is not so much finding and comparing alternatives - options are as numerous as stars in the sky. The difficult part comes when an owner sees something they like and and cautiously turns the risk over in his or her mind (with good reason should be qualified here). LLTeK is aware of the concerns that Audi A4 cabriolet owners have and will answer your questions - there is no obligation when calling.

The conversion kit offered by LLTeK for the Audi A4 cabriolet was first introduced and made available in North America back in March of 2007 when LLTek announced the RSFour Look for the Audi A4 B6 Cabriolet. It proved to be popular (again with good reason) - was extended and refined.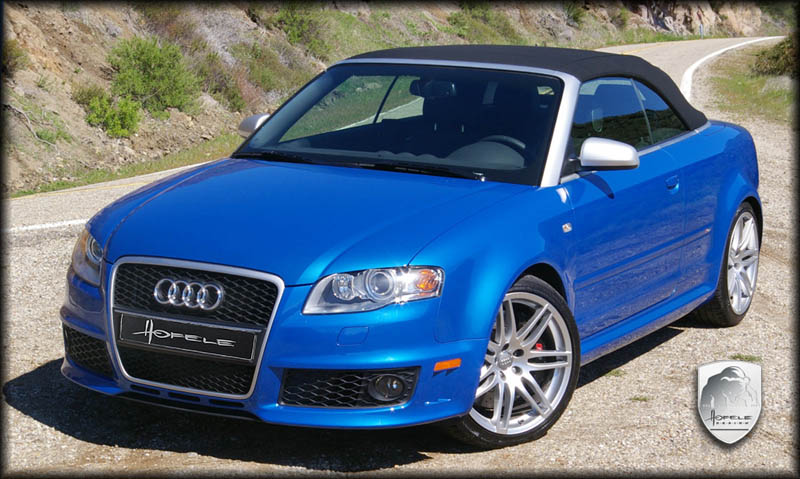 Hofele Design's RS Four Body Kit styling for the Audi A4 B7 has room for LED driving light options in the fog bezels.
Although the accompanying pictures do not illustrate optional LED driving lights that LLTeK offers, we have included a recent photo (last week) where the LED strips were installed here on an Audi RS4. The visual impact is only slightly more pleasing than the practical aspects of using them at night or full-time use as daytime running lights.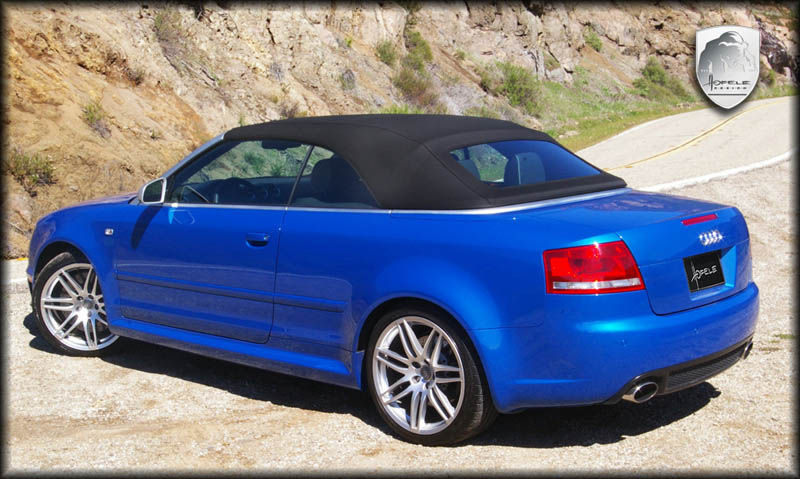 Rear valance and exhaust tips by Hofele Design in the RSFour Look transfer authenticity in the upgrade.
LLteK offers a number of services to help your project along - i.e. MatchPaint, mesh installations and lighting upgrades. If MatchPaint service is chosen with your purchase - the results arrive ready-to-install. Optional lighting in bumpers is bench-tested before packaging - and your purchase is protected by foam sheets, bubble-wrap, blown popcorn styrofoam and air bags.... and if you don't trust UPS to deliver it in one piece we can arrange to have it delivered just the way you want. Click here now for details on Hofele RSFour styling for the Audi B7 cabriolet.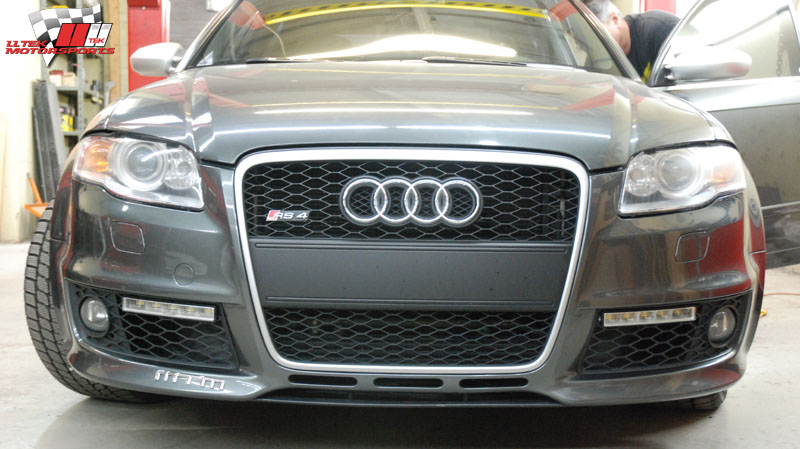 Audi RS4 with recent installation of Driving / DRL LED strips - (November 2009).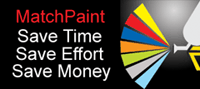 LLTeK offers MatchPaint service on all body kit tuning projects for Audi cars. The service is offered to tuners as a way to make gains on project timelines and costs. The graphic for MatchPaint will be found often on the LLTeK website and you are invited to click and read about LLteK's professional paint services. You are always welcome to call toll-free 1 888 465 5835 or International 001 514 733 6333 if you have any questions.