New HID LED Style Headlights for Audi Cars
Upgrade - Replacement Headlights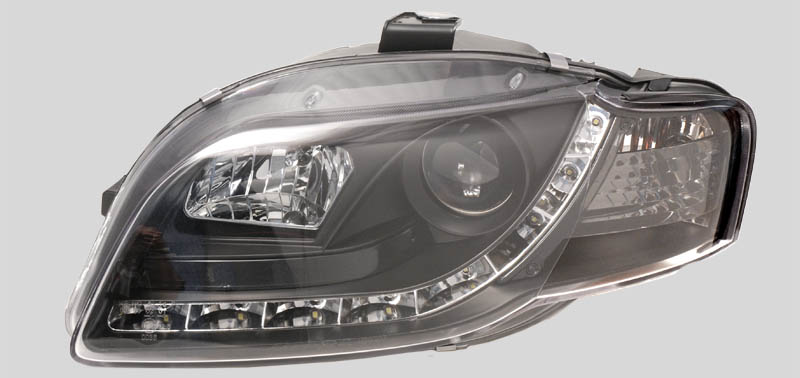 Close-up view of black accent version headlight (A4 B7).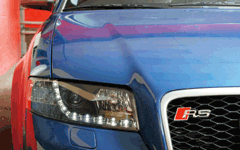 LLTeK has been an innovator and leader in headlight lighting supply for Audi cars for over nine years. LLTek was in the lead providing solutions for conversion to e-code (Euro) headlights with special ballasts and the "clear corner" look. Now LLTeK will provide Audi enthusiasts with the retrofit headlight incorporating LED "daytime running lights" (DRL) with a new HID 55 watt Hi-Performance digital ballast or as a Halogen at a slightly lower cost.
These replacement upgrade headlights for Audi cars are simple swaps from original factory lighting and the conversion can be accomplished in comfort of your own driveway. (
get history, knowledge and trivia about headlamps here
). Now would be the perfect time to replace those scratched or yellowed headlights or to move to a better headlight giving greater night time safety.
LLTeK will ship your purchase as plug-and-play headlights. The improvements gained (besides the aesthetics of clear corner S-Yo bulbs) will be better and safer night vision driving. LLTeK will do its best to inventory the OpTeK line of headlights in all configurations. However, experience informs us that "sellouts" in certain categories can be expected.
Order now and avoid disappointment. Call toll-free now in North America 1 888 465 5835 or International 001 514 733 6333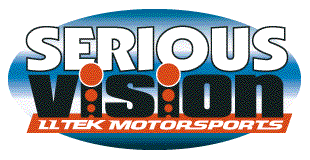 HE LLTeK "OPTEK LED" HEADLIGHT PROGRAM
THINGS WE WANT YOU TO KNOW ABOUT
Before you order your set of Optek headlights, it is important you read and understand the information in this section. If you do not understand, please call and ask questions.
THIS HEADLIGHT IS NOT FOR YOU - IF:

Your car has automatic headlight on/off feature (with this feature in the Auto position your headlight will turn on automatically when the sensors detect "darkness")
Your car has automatic rain initiated windshield washers (with this feature your washers will start automatically if the washer stalk is in the Auto position, when the sensors detect "rain").
Your car already has HID Xenon for Audi - see exceptions
Exceptions:
A) A4/S4 B5 with HID - OK to replace
B) A6 C5 with HID - OK to replace
C) Audi TT 8N with HID - OK to replace
D) All other vehicles with auto-leveling
see Special Section on Headlight Leveling.

So why do we say this? We want the installation to be easy and simple. Cars with the above features will most likely develop technical problems for which we cannot be responsible. So it's not that you cannot order the Optek's (many have), it's just going to be a problematic installation whereby there may be extra cost issues.
What is a Chrome OpTeK headlight?
The look of the "chrome" headlight is very factory, classic and clean. Simply put, the Chrome OpTeK headlight version means most visible surfaces are chrome, where some Chrome OpTeK versions can sport a small amount of black edging. Combined with LLTeK's S-YO silver turn signal bulb, orange is a thing of the past, except when your turn signal is engaged or when your emergency flashers are on. The "chrome" version resembles the clear Euro headlight look for Audi but retains the North American requirements of orange-colored turn signals and hazards

.

What is a Black OpTeK headlight?
Every Black OpTeK headlight contains chrome reflectors inside. The high beam reflector is always chrome. The reflector in the turn signal compartment is always chrome. Many of the smaller sample photos here do not illustrate the appearance very faithfully. Where the interior is showing as all black - this deceptive look is produced by the chrome reflecting dark values and these photos will be replaced as they become available. However, the projector lens coverings (or almost 60% of the interior) are generally all black. With the S-YO silver turn signal bulb, orange is non-existent except when turning with turn signal engaged or when your emergency flashers are engaged. Both the"black" and "chrome" versions of the OpTeK headlight produce technical performance looks.
The Optek line of headlights do not have a self-leveling feature. This does not mean an owner of a car with pre-existing self-leveling features in the headlight cannot purchase and successfully use the Optek headlight system. Self leveling is a feature associated with factory Xenon headlights but is not found in factory Halogen lights. Therefore a Halogen replacement is not affected. As a result when the current Xenon headlight is removed from the car and replaced with an Optek headlight also equipped with Xenon, a message will appear on the dash showing a "fault" with the leveling system. This fault message is generated as it is detecting "no leveling functionality". The OEM leveling program is often contained within the OEM ballast. To remove the "fault message", you can go to your Audi dealer who can eliminate the notification. In effect the dealer reclassifies the car as Halogen. Certain VAG tools can perform the same feature of eliminating the message. However, the sucessful cancellation of these types of messages is not something that LLtek can guarentee. Audi continiously makes upgrades to their systems. Thus the ability of the change can be affected by a build date and other issues beyond our control. As previously stated the headlights do not have leveling features. If this is a mandatory feature for you, do not order this headlight. Please refer to the section
"This headlight is not for you - if"
.
IS AUTO LEVELING MANDATORY?
The purpose of auto leveling is to compensate for heavy loads in the rear of the car (e.g. 3 heavy adults in the back seat or ultra heavy objects in the trunk or towing a heavy load). This extra weight can temporarily re-aim the headlight. That being said, with good alignment at time of installation the auto leveling should not be a long-term issue. In the USA and Canada, on Halogen headlights there is no leveling device. If you feel auto leveling is a mandatory feature that you need, you should not order the Optek headlight. So the choice is yours, not ours.
About the LED Daytime Running Lights (DRLs)
The LEDs in these headlights are strong, bright and are designed to be on all of the time if you choose. The LED (Light Emitting Diode) bulbs are not replaceable; but generally speaking, LED bulbs should outlive the life of the car. LEDs functioning full-time are called DRL (Daytime Running Lights) and are considered a safety enhancement because your car's visibility is increased for oncoming drivers - did we mention the LEDs look great as well! The LED is activated by going to the "park position" of the headlight switch or by turning on the headlight. No extra wiring is needed.
E Code and DOT Headlight Standards
The OpTeK LED headlights are E Code standard - meaning they are designed for use in Europe not North America. DOT is the North American standard. With E Codes, beam focus is tighter and longer. There is no wasted or "bleed off" light like a DOT headlight. Therefore the HID low beam and halogen high beam are far brighter and more intense than their DOT counterpart. All headlights including E Codes require alignment like their DOT counterparts and alignments should be a part of every service call or performed at least once a year. Alignment is necessary at time of installation.
No Orange S-YO turn signal bulbs and Hi-Beam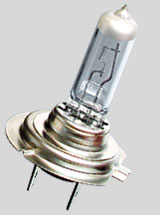 The first visible difference between an E Code and a DOT headlight is the absence of orange color reflectors in the corners. The more attractive clear E Code headlight is cleaner and uncluttered. The optional S-YO ($33.00 per set) bulb glass is silver chrome in appearance (E Code) yet the bulb flashes yellow/orange (DOT); hence the name S-YO (Silver-Yellow-Orange) and the best of both worlds.
The headlight appearance very clean and the S-YO turn signal bulb is as invisible as you can get (unless it's being used). Ask about S-YO bulbs in your headlights as an option.

HID Xenon - now Digital
Each OpTeK LED HID headlight comes with a newly developed 50-55 watt High Performance Digital ballast plus a corresponding 50-55 watt HID Super Ice White bulb. The color temperature (Kelvin) of the HID bulb in is 6000K. This gives an ice white look with a twinge of ice blue. A halogen alternative is possible on request. There is a significant gain upgrading to 50-55 watts - a gain of 53.3%-57.14% over normal HID

All OpTeK LED headlights are HID-equipped unless downgraded to Halogen (this specification is subject to change and such changes will be posted if they occur). The 50-55 watt level of power output is greater than a standard 35 watt HID bulbing system (all cars that are factory HID-equipped are delivered with 35 watt systems. So, as good as the factory system is, 50-55 watts delivers far more lighting performance.

As a percentage, this is a 53-57% gain in wattage and "no" we do not believe you get 57% more light output. However, you can be sure it's far brighter than the standard 35 watts. Combine the 50-55 watts with an even tighter, brighter projector E Code and the result means a dramatic increase of more intense light. This gives the nighttime driver an amazing pick-up in road visibility, driving confidence and road safety. Note: If and when a bulb or ballast needs to be replaced, they must be both be 50-55 watt.
Warranty - HID system
For a period of 90 days from the date of purchase, there is a no questions asked service warranty whereby the HID bulb or ballast will be replaced for a fee of $45 per item (ballast or bulb) plus shipping. After 90 days, bulbs and ballast will be charged at the then-published rate. LEDs are not part of the warranty. Warranty - headlight - The headlight is guaranteed for 90 days for fit and connectivity and/or manufacturing defects only. Fogging, misting or interior condensation are not guaranteed (nor does Audi warrantee these anomalies as well if they occur). However, these conditions are very rare (if at all) due to the higher 55 watts which dehumidifies the interior air of the headlight better than 35 watts.
Fusing
It is recommended you change to a 15 amp fuse, especially if the car is older (A4 B5 and A6 C5). In most cases a fuse upgrade is not necessary, yet advisable.
"Bulb out" - Dash Notification (DBN)
Since the new HID bulb is 55 watts and the prior bulb was also 55 watts (unless a 35 watt HID), a false bulb out notification on your dash is rare. There are several ways to fix a false notification and we suggest your dealer do an ECU cancel. Again, DBNs are very rare and is something beyond our control and not our responsibility.
Plug and Play
Each OpTeK LED headlight is defined as a "plug and play". This means no modifications, no special wiring or tools and no special work has to be performed to install the headlight. On A4 B5 cars it will be necessary to connect the ground lead, turn signal lead and corner marker lead separately. However these connections are still plug and play (just 3 instead of 1).
Light Ignition Flutter - A4 B5 Cars
On certain A5 B5 cars (first generation A4), due to intermittent non-visible alternator problems, sometimes there can be some occasional stuttering of the headlight at turn-on time. If this happens, it is normally rectified by swapping the ballast from left to right side. This stutter can occur at time of turn-on under rare circumstances. Stuttering can also occur on this car due to a power grab of one side before the other. If voltage drops for a millisecond below 9 volts, the ballast goes into a safe or stuttering mode.
HID Xenon and Safety
For those not familiar with HID systems, here is a very important message. HID is very powerful and technical and is not a simple technology. Halogen bulbing is very simple. In halogen, current (12 volts) passes through a filament that is heated and then the filament glows. This glowing gives off the visible halogen light. HID Xenon is very different. The bulb has no filament. Instead, the bulb is filled with a Xenon gas. This gas is ignited. Once ignited the gas glows. It takes between 20,000 to 25,000 volts to ignite the gas. The igniter is usually built into the ballast. First 12 - 14 volts feeds into the ballast. The ballast instantly ups the voltage to the 20,000 to 25,000 volts for a millisecond to explode or ignite the gas in the bulb. Then the voltage drops to 80-90 volts to maintain the gas glow. Never touch the bulb when you turn on power as the results could be very dangerous with the high voltage of 20,000 plus volts. All bulbs are preinstalled so there is no need to touch them or any of the wires when you turn on the headlight. If a bulb goes out, you should go to a qualified shop for the shop to remove and inspect. The headlights should be unplugged before inspection and de-installation. Shops can be an audio, collision, electronic etc. or even an Audi dealer. All are familiar with HID. If they are not, go to another shop that is familiar. Never touch the glass ampoule of the Xenon bulb. Any oil or dirt from contact will affect the longevity of the bulb.


Ballast Location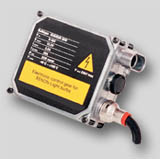 The ballast is what converts your 12 - 14 volts into 20,000 - 25,000 volts. The ballast is tethered by wire of about 12 - 15 inches. Each ballast comes with a mounting bracket. Find a secure location for the bracket. Then use the bracket to secure the ballast. Note: In certain models, OpTeK headlights may feature a ballast pocket - and for these models LLTeK may elect to install the ballast in the pocket. The ballast can be snapped into and out of the bracket. Never touch the ballast or ballast wires when you turn on the headlight. And, never touch the bulb, even if it's not wired into the ballast or headlight. Oils from your fingers transferred to the glass ampoule can damage the bulb and cause the bulb to be damaged.
LLTeK experience
LLTeK has been involved with HID lighting for over 9 years. It is not a 100% perfect technology. That being said, there is no reason to be concerned. With a little care and a good installation, your new OpTeK headlight and the HID Xenon installed system should last a very long time. The improvement in lighting is dramatic. The LED look adds safety and good looks. Audi has chosen the LED look for all of its newer cars and you can have the look plus our provided superior lighting performance.
Specifications subject to change
Specifications may change due to ongoing upgrades to product, new technology or availability factors. LLTeK will publish these changes to the best of its ability in a timely manner whenever possible.
Pin Connector Issues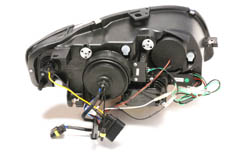 On certain Audi cars such as the pre-facelift 8PA A3 years 2005 to 2008, a special 14 - to 10 pin converter adapter wire may be necessary to create "plug and play" connectivity. For example, there are three variations of the A3 pre-facelift headlight (Halogen, Xenon and Bi-Xenon. The Halogen and Xenon have a 10 pin connector headlight and so does our A3 LED headlight. Therefore connectivity is direct "plug and play only. In the Bi-Xenon headlight, the connector used is a 14 pin device. Therefore direct conversion of 14 pins to the 10 pin input wire is impossible. In these rare cases a 14 to 10 pin wire adaptor will be necessary. This situation may occur on other models of the LED headlights. The responsibility of knowing what type of pin connectors you have is yours and not ours. From what we can see, the extra four connectors only appear if the car is Bi-Xenon and the pin adaptor cable should eliminate the connectivity issue. The four extra wires control leveling out. At this time the OpTeK LEDs do not have leveling. The projector is always in the "up" or "level" position.
What is Bi-Xenon?
Here is what Bi-Xenon is not. It is not HID Xenon in the high and low beam socket. It is Xenon in the low beam and when you go to high beam the Xenon in the low beam stays on. A mechanical light-blocking flap in front of the xenon bulb activates and allows more light to be released for the high beam effect.
Full HID in High Beam
With today's very flexible HID technology, it is possible to install Xenon in the high beam, if applicable. Should you elect this option, LLTeK will install and pre-test your system prior to shipping. The importance of headlight alignment on a regular basis is far greater if there is HID in the high beam, especially when we are installing a 50-55 watt ultra-bright HID system.
Car Model Years Shown
Please note that model years shown in the description and pricing apply to North American versions of the Audi. If you are ordering from outside North America, please double confirm the year with the correct corresponding headlight model. This necessary precaution in ordering is easy to accomplish and your LLTeK Rep will assist with all your questions.
Specifications subject to change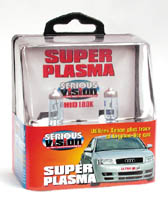 Specifications may change due to ongoing upgrades to product, new technology or availability factors. LLTeK will publish these changes to the best of its ability in a timely manner whenever possible.
Canadian Car Notification - A4 B5
Note 1:Hid Xenon Bulb and Ballast option requires a 15 amp fuse
Note 2: Canadian cars will have to make one modification to their car. This has to do with Canadian cars having daytime running lights and a "voltage reduction module". The voltage reduction module must be bypassed. However, after the module bypass and HID installation, you will still have daytime running lights.
Disclaimer, waivers and related issues: The OpTeK headlight is designed and approved for use in Europe and most parts of the world. Therefore they are approved E code design and specification. In the USA, headlights design is overseen by the Department of Transport - DOT. Canada accepts the E Code design. LLTeK accepts no responsibility if you choose to install an E Code headlight, the HID upgrade in the low beam and the optional upgrade to HID in the high beam. LLTeK believes the E Code provides a safer nighttime driving experience because beam pattern dispersion is tighter and more focused, thereby lighting up the road far better. With the 50-55 watt Xenon system, nighttime driving is even better. LLTeK stresses the importance of proper and continued headlight alignment.
Choose from 25 Model Options
50-55watt 6000k Super Xenon
Full Chrome Headlight
LED-Equipped E-code
or
50-55watt 6000k Super Xenon
Black Lens Housing
LED-Equipped E-code
2b
Audi A3 8P (2003 - 2008) - Black Lens Housing
LED + HID Equipped E-codes

Kit includes left and right headlights, HID pre-installed 55 watt digital ballast and 55 watt Hi-Performance 6000k Xenon Bulbs - Part# JT- JA303LM-PDHL-B-K --- Price $699.00
3c
Audi A4 B5 (1996-1999) - Full Chrome Headlight
LED + HID Equipped E-codes

Kit includes left and right headlights, HID pre-installed 55 watt digital ballast and 55 watt Hi-Performance 6000k Xenon Bulbs - Part# 3400ADA495-K --- Price $699.00
3b
Audi A4 B5 (1996-1999) - Black Lens Housing
LED + HID Equipped E-codes

Kit includes left and right headlights, HID pre-installed 55 watt digital ballast and 55 watt Hi-Performance 6000k Xenon Bulbs - Part# 3400ADA495JM-K --- Price $699.00
4c
Audi A4 / S4 B5 facelift (1999.5-2001) - Full Chrome Headlight
LED + HID Equipped E-codes

Kit includes left and right headlights, HID pre-installed 55 watt digital ballast and 55 watt Hi-Performance 6000k Xenon Bulbs - Part# 3400ADA499-K --- Price $699.00
4b
Audi A4 / S4 B5 facelift (1999.5-2001) - Black Lens Housing
LED + HID Equipped E-codes

Kit includes left and right headlights, HID pre-installed 55 watt digital ballast and 55 watt Hi-Performance 6000k Xenon Bulbs - Part# 3400ADA499JM-K --- Price $699.00
5c
Audi S4 B5 facelift (2000-2002) - Full Chrome Headlight
LED + HID Equipped E-codes

Kit includes left and right headlights, HID pre-installed 55 watt digital ballast and 55 watt Hi-Performance 6000k Xenon Bulbs - Part# 3400ADA499-K --- Price $699.00
5b
Audi S4 B5 facelift (2000-2002) - Black Lens Housing
LED + HID Equipped E-codes

Kit includes left and right headlights, HID pre-installed 55 watt digital ballast and 55 watt Hi-Performance 6000k Xenon Bulbs - Part# 3400ADA499JM-K --- Price $699.00
6c
Audi A4 B6 (2002-2005) - Full Chrome Headlight
LED + HID Equipped E-codes

Kit includes left and right headlights, HID pre-installed 55 watt digital ballast and 55 watt Hi-Performance 6000k Xenon Bulbs - Part# 3400ADA401-K --- Price $699.00
6b
Audi A4 B6 (2002-2005) - Black Lens Housing
LED + HID Equipped E-codes

Kit includes left and right headlights, HID pre-installed 55 watt digital ballast and 55 watt Hi-Performance 6000k Xenon Bulbs - Part# 3400ADA401JM-K --- Price $699.00
6c
Audi A4 B6 Cabriolet (03-06) - Black Headlight
LED + HID Equipped E-codes

Kit includes left and right headlights, HID pre-installed 55 watt digital ballast and 55 watt Hi-Performance 6000k Xenon Bulbs - Part# JT- JA402CCYPDLHL-B-K --- Price $699.00
7c
Audi A4 B7 (2005.5 - 2008) - Full Chrome Headlight
LED + HID Equipped E-codes

Kit includes left and right headlights, HID pre-installed 55 watt digital ballast and 55 watt Hi-Performance 6000k Xenon Bulbs - Part# 3400ADA405-K --- Price $699.00
7c
sedan
Audi A4 B7 (2005.5 - 2008) - Full Chrome Headlight
Cabriolet LED + HID Equipped E-codes

Kit includes left and right headlights, HID pre-installed 55 watt digital ballast and 55 watt Hi-Performance 6000k Xenon Bulbs - Part# JT-JA405LM-PDHL-K --- Price $699.00
7b
sedan
Audi A4 B7 (2005.5 - 2008) - Black Lens Housing
LED + HID Equipped E-codes

Kit includes left and right headlights, HID pre-installed 55 watt digital ballast and 55 watt Hi-Performance 6000k Xenon Bulbs - Part# JT- JA405LMPDHL-B-K --- Price $699.00
7ccabbie
Audi A4 B7 (2005.5 - 2008) - Full Chrome Headlight
LED + HID Equipped E-codes

Kit includes left and right headlights, HID pre-installed 55 watt digital ballast and 55 watt Hi-Performance 6000k Xenon Bulbs - Part# JT-JA405LM-PDHL-K --- Price $699.00
7bcabbie
Audi A4 B7 (2005.5 - 2008) - Black Lens Housing
LED + HID Equipped E-codes

Kit includes left and right headlights, HID pre-installed 55 watt digital ballast and 55 watt Hi-Performance 6000k Xenon Bulbs - Part# JT- JA405LMPDHL-B-K --- Price $699.00
8c
Audi A6 C5 (1998 -2001) - Full Chrome Headlight
not 4.2, S6 and RS6
LED + HID Equipped E-codes


Kit includes left and right headlights, HID pre-installed 55 watt digital ballast and 55 watt Hi-Performance 6000k Xenon Bulbs - Part# 3400ADA699-K --- Price $699.00
8b
Audi A6 C5 (1998-2001) - Black Lens Housing
not 4.2, S6 and RS6
LED + HID Equipped E-codes

Kit includes left and right headlights, HID pre-installed 55 watt digital ballast and 55 watt Hi-Performance 6000k Xenon Bulbs - Part# 3400ADA699JM-K --- Price $699.00
9c
Audi A6 C5 (2002 - 2004) - Full Chrome Headlight
not 4.2, S6 and RS6
LED + HID Equipped E-codes

Kit includes left and right headlights, HID pre-installed 55 watt digital ballast and 55 watt Hi-Performance 6000k Xenon Bulbs - Part# 3400ADA601-K --- Price $699.00
9b
Audi A6 C5 (2002 - 2004) - Black Lens Housing
not 4.2, S6 and RS6
LED + HID Equipped E-codes

Kit includes left and right headlights, HID pre-installed 55 watt digital ballast and 55 watt Hi-Performance 6000k Xenon Bulbs - Part# 3400ADA601JM-K --- Price $699.00
10b
Audi A6 C6 (2005 - 2008) - Black Lens Housing
LED + HID Equipped E-codes

Kit includes left and right headlights, HID pre-installed 55 watt digital ballast and 55 watt Hi-Performance 6000k Xenon Bulbs - Part# JT JA604-PDHL-B-DR --- Price $799.00
11c
Audi TT 8N (1999 - 2006) - Full Chrome Headlight
LED + HID Equipped E-codes

Kit includes left and right headlights, HID pre-installed 55 watt digital ballast and 55 watt Hi-Performance 6000k Xenon Bulbs - Part# 3400ADTT99-K --- Price $799.00
11b
Audi TT 8N (1999 - 2006) - Black Lens Housing
LED + HID Equipped E-codes

Kit includes left and right headlights, HID pre-installed 55 watt digital ballast and 55 watt Hi-Performance 6000k Xenon Bulbs - Part# 3400ADTT99JM-K --- Price $799.00
Replacement Parts - Warranty during 1st Year
Part ID
Part Description
Price
1
55 watt Hi-performance digital ballast
during warranty period of 1 year
$45
2
55 watt Hi-performance Xenon bulb 6000K
during warranty period of 1 year
$45
Replacement Parts - after Warranty - after 1st Year
3
Full HID Kit for Optek headlights consisting of
two 55 watt digital ballast and
two 6000K 55 watt Xenon bulbs
$299
4
55 watt Hi-performance ballast
$99
5
55 watt Hi-performance Xenon bulbs -6000K
$99