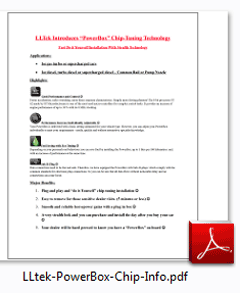 LLTek now offers safe reliable and proven high performance chip tuning for Audi gas and diesel engines. For quick reference click the LLTeK PowerBox Info image to the right and download the PDF.
The chart below provides details
on before and after specs (mfg numbers and percentages) for horsepower and torque increases.
Download the PDF and get the skinny --> --> -->
Each unit is programmed for a particular model and engine. They all ship with instructions and install in less than an hour requiring no special tools. All your original oem software remains intact.
This technology uses the band of unemployed power built into every OEM Audi.
As shown below, the gains in horsepower average above 25% and torque is bumped an average 20%.
This is a remarkable improvement in performance. Even moreso, when one considers that there is no footprint and the unit can be unplugged and returned to factory specs in the same time that it takes to install. No computers or technicians required. For gearheads - each unit can be tweaked up to maximise output but the tweaking option is not recommended for the uninitiated.
Call with your questions - we can make your car go faster. After Hours? Click Below for e-mail quote.
Model
Motor
Displacement
Stock HP
Stock Torque NM
Tuned HP
% Increase HP
Tuned Torque NM
% Increase NM
A3 (8P)
1.2 TFSI
1197ccm
105
175
133
27%
222
21%
A3 (8P)
1.4 TFSI
1390ccm
125
200
160
28%
252
21%
A3 (8P)
1.8 TFSI
1798ccm
160
250
204
27%
315
21%
A3 (8P)
2.0 TFSI
1984ccm
200
280
256
28%
358
22%
A3 (8V)
1.4 TFSI
1390ccm
122
200
155
27%
256
28%
A3 (8V)
1.8 TFSI
1798ccm
160
250
205
28%
317
27%
A3 (8V)
2.0 TDI
1968ccm
184
380
232
26%
490
29%

click and go back to A3 index
A4 (B7)
2.0 TFSI
1984ccm
200
280
254
27%
356
21%
A4 (B7)
2.0 TFSI
1984ccm
220
300
281
28%
381
21%
A4 (B8)
1.8 TFSI
1798ccm
120
230
152
27%
294
22%
A4 (B8)
1.8 TFSI
1798ccm
160
250
205
28%
318
21%
A4 (B8)
1.8 TFSI
1798ccm
170
250
216
27%
318
21%
A4 (B8)
2.0 TFSI
1984ccm
179
320
228
27%
406
21%
A4 (B8)
2.0 TFSI
1984ccm
200
280
254
27%
356
21%
A4 (B8)
2.0 TFSI
1984ccm
211
350
268
27%
448
22%

click and go back to A4 index
Model
Motor
Displacement
Stock HP
Stock Torque NM
Tuned HP
% Increase HP
Tuned Torque NM
% Increase NM
A5
1.8 TFSI
1798ccm
160
250
204
27%
318
21%
A5
1.8 TFSI
1798ccm
170
250
216
27%
320
22%
A5
2.0 TFSI
1984ccm
179
320
230
28%
410
22%
A5
2.0 TFSI
1984ccm
211
350
268
27%
448
22%

click and go back to A5 index

A6 (C6)
2.0 TFSI
1984ccm
170
280
216
27%
356
21%
A6 (C6) Allroad
3.0 TFSI
2995ccm
290
420
368
27%
529
21%
A6 (C7)
2.0 TFSI
1984ccm
211
350
268
27%
441
21%
A6 (C7)
3.0 TFSI
2995ccm
299
440
377
26%
563
22%

click and go back to A6 index
A7 C7 (4G)
3.0 TFSI
2995ccm
299
440

359
20%
531
17%
A7 C7 (4G)
3.0 TDI

2967ccm
245
500
320
31%
604
21%

click and go back to A7 index
A8 (D4)
3.0 TFSI
2995ccm
290
420
368
27%
529
21%

click and go back to A8 D4
Model
Motor
Displacement
Stock HP
Stock Torque NM
TunedHP
% Increase HP
Tuned Torque NM
% Increase NM
Q3
2.0 TFSI
1984ccm
170
280
218
+ 28%
359 Nm
+ 28%

click and see Audi to Q3 Grille page
Q5
2.0 TFSI
1984ccm
179
320
226
26%
406
21%
Q5
2.0 TFSI
1984ccm
211
350
269
28%
445
21%

click and go back to Q5
Q7
3.0 TFSI
2995ccm
272
400
333
23%
482
17%
Q7
3.0 TFSI
2995ccm
333
440
404
21%
529
17%
Q7 (US spec)
3.0 TDI
2967ccm
228
550
290
27%
710
29%

click and go back to Q7
RS3 (8P)
2.5 TFSI
2480ccm
340
450
374
10%
576
22%
S3 (8P)
2.0 TFSI
1984ccm
265
350
340
28%
445
21%
Model
Motor
Displacement
Stock HP
Stock Torque NM
Tuned HP
% Increase HP
Tuned Torque NM
% Increase NM
S4 (B8)
3.0 TFSI
2995ccm
333
440
404
21%
529
17%

click and go back to S4
S5
3.0 TFSI
2995ccm
333
440
404
21%
529
17%

click and go back to S5
TT (8J)
1.8 TFSI
1798ccm
160
250
205
28%
320
22%
TT (8J)
2.0 TFSI
1984ccm
200
280
256
28%
353
21%
TT (8J)
2.0 TFSI
1984ccm
211
350
268
27%
441
21%
TT (8J)
2.0 TFSI
1984ccm
265
350
334
26%
448
22%
TT RS (8J)
2.5 TFSI
2480ccm
340
450
379
12%
549
18%
TTS (8J)
2.0 TFSI
1984ccm
272
350
345
27%
448
22%

click and go back to TT