Body Kit Styling Index for the BMW Z Series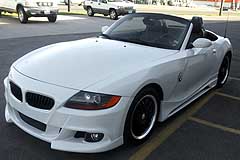 If you've been looking for aftermarket parts or body kit styling modifications for your 2002 -2008 BMW Z4 - you made a good choice in visiting the LLTeK website: As of October 2010, LLtek offers world standard aero tuning options for the BMW roadster Z4 E85 and the Z4 E86 coupé. The kit, designed and manufactured by Rieger Tuning (based in Germany), can be seen either as a slideshow or viewed with part numbers, descriptions, model compatibilities and pricing. To view this information, 3 new BMW Z4 big POP-UP PIX --- Click - Rieger Body Kit Styling for BMW Z4

---
A Condensed Profile on the BMW Z Series
The Z4 E89 is built at the BMW plant in Regensburg, Germany. Prior to this, the Z4 was built in the USA at the BMW factory in Spartanburg, South Carolina.


The new Z4 features a two part retractable roof combining the coupe and roadster. Brilliant!


Danish designer Anders Warming is the person responsible for creating the look of the BMW Z4.


LLTeK Motorsports continues to be an excellent choice for body kit styling and performance accessories. Call LLTek Toll-Free in North America at 1 888 465 5835 and get more info.