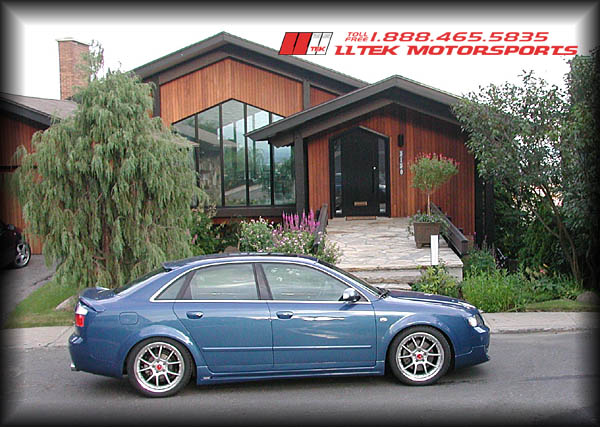 Styling for the Audi A4 8E B6 Avant
Click on any image below to see an enlarged version
In our continuing efforts to provide quality, diversity and service to the Audi community - LLTeK presents this Body Kit Styling from German-Euro Designer/Manufacturer JE DESIGN. LLTeK is pleased to offer Audi enthusiasts all across America this unique array of enhancements for the A4 Audi Sedan and Avant 2002 - 2006. LLTeK site visitors are encouraged to call LLTeK with any questions they might have concerning JE DESIGN and speak with any of our friendly and knowledgeable Customer Reps.
Body Kit Styling Options for the Audi A4 8E B6 Avant

Part Number
Part Description
Price
JEA48E-03 (B6)
Front Spoiler
$477 
JEA48E-04 (B6)
Side Skirt - Left + Right (urethane)
$388 
JEA48E-05 (B6)
Rear Spoiler - 3 Pieces
$311
JEA48E-22S
Rear Valance - Sedant USA
$555
JEA48E-23S
Rear Valance - Sedan Europe
$633
JEA48E-25 (B6)
Optional Openings in Rear Valence
$188
JEA48E-26
Avant Rear Spoiler
$311
JEA48E-27
"Shark Fin" Antenna
$55
JEA48E-28
Headlight Cover - Complete
$122
JEA48E-29
Headlight Cover - Top
$88
JEA48E-30
Headlight Cover - Bottom
$55
LLTeK business hours are Monday through Friday - 8:30 AM to 5:00 PM EST (GMT -05:00)
In North America Call Toll-Free --- 1 888 465 5835
International Call --- 001 514 733 6333

Click and Return to Audi A4 B6 Aftermarket Parts index...

Click to Return to LLTEK Home Page index...