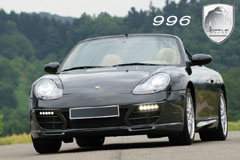 Here's a German designed and manufactured body kit for the car that exemplifies the best in engineering when the word roadworthy is mentioned. Hofele brings an upgrade package worthy of Ferdinand's namesake.
This styling modification for the 911 typ 996 is a full wrap for the narrow body model. It consists of 4 base components: front bumper, sideskirts, and a rear bumper cover - all molded with a proprietary plasticised fiberglass compound called PKG. In addition, enthusiasts can option up on LED lighting, a roof spoiler for the coupe, and stainless steel oval exhaust tips. Enjoy!
If you have questions about this styling upgrade or any other products offered by LLTeK- call toll-free in North America at
1 888 465 5835
- 8:30 AM until 5:00 PM (EST). International callers can reach LLTeK at 001 514 733 6333.
Part#
Description
Composition
Price
HF986/996-9451

Front Bumper (996)
for models without parking sensors
PKG
$1544

Click on any thumbnail image for an enlarged pop-up version


HF LED-5077-B
Smoked LED Lighting
---
$499
HF LED-5077-B
Clear LED Lighting
---
$466

HF996-9552
Sideskirts (left & right)
no fitment for Wide Body Rear
PKG
$1333

HF996-9553

Turbo Look Rear Bumper (996)
no fitment for Wide Body Rear
PKG
$1544

HF996-9558
Roof Spoiler (996) Coupe
PKG
$1199

HF986/996-9465
Headlight Masks (996)
for Models with Washer Systems
-
$733

HF986/996-9465-SRA
Headlight Masks (996)
for Models without Washer Systems
-
$833

HF996-9567
Oval Sport Exhaust Tips (996)
157mm x 92mm per side
Stainless Steel
$1155
HF996-9554
Adaptors for OEM Muffler Tailpipe
Stainless Steel
$577

RDI996/986-30 PEDAL
Aluminum Pedals Automatic (986 / 996)
Aluminium
$166

RDI996/986-31 PEDAL
Aluminum Pedals Manual (986 / 996)
Aluminium
$166

RDI996/986-32 FOOT


Aluminum Footrest (986 / 996)
Aluminium
$166