first published January 3, 2012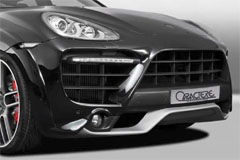 Belgian Design / Tuning firm Caractere has released its second Porsche
®
offering through the new "Exclusive" company / division dedicated to providing "best in class" bodykit styling for luxury cars. CARACTERE EXCLUSIVE offers a full conversion kit consisting of widebody aerodynamics, house marque CW1 wheel rims, a sport exhaust system and carbon fiber interior trims in 4 finishes. LLTek is pleased to present Cayenne 958 owners with styling options produced precisely for their satisfaction.
Click on the Slideshow Link below and see large detailed images of exactly what the 958 looks like when modified by Caractere Exclusive. If you have questions about this styling upgrade or any other products offered by LLTeK, call toll-free in North America at
1 888 465 5835.
LLteK business hours are Monday through Friday 8:30 AM until 5:00 PM EST (GMT -5:00). International phone --- 001 514 733 6333.




Caractere Exclusive Price Schedule
Bodykit Styling for Porsche Cayenne II 958

LINE#
PART#
DESCRIPTION
Material
PRICE


1
CARPOR958-01


958 Cayenne Complete Kit (Non-Turbo)

Front bumper with integrated air vents
Install pack for non-turbo
Rear bumper with integrated side vents
wheel arch flares (side vents integrated)
side skirts
Roof Spoiler
Requires additional Installation Package
Part# CARPOR958-04
See options CARPOR958-05/06/07/08



Pu-Rim/Urethane
$11522
1B
CARPOR958-02 TURBO


958 Cayenne Complete Kit (Turbo)

Front bumper with integrated air vents
Rear bumper with integrated side vents
wheel arch extension flares (side vents integrated)
side skirts
Roof Spoiler
See options CARPOR958-05/06



Pu-Rim/Urethane
$11999
2
CARPOR958-03
Rear Roof Spoiler (All)
Urethane
$999
3
CARPOR958-04
Install Pack for Non-Turbo
Not sold seperately (except as a replacement part)
PU-RIM
$1411
4A
CARPOR958-05-PDC
OPTION for Park Assist
(V6/V8/TDI/Hybrid)
---
$211
4B
CARPOR958-06-WASH
OPTION for Headlamp Washers (V6/V8/TDI/Hybrid)>
---
$211
4C
CARPOR958-07-ACC
OPTION for Adaptive Cruise Control (All)
---
$144
4D
CARPOR958-08-TOW
OPTION for Tow Hitch Control (All)
---
$144
5
<
IBW957/8-03
Air Assisted Suspension Lowering Device
On / Off Switch $155 additional
TÜV approved
plug 'n play
$2299




Caractere CW1 Wheels for Standard Conversion

Finish
Size
Offset
Bore
Price
CW1 Mirror Polished Silver
20 x 9
50
71.6
$899
CW1 Graphite Mat Polished
20 x 9
50
71.6
$899
CW1 Mirror Polished Silver
21 x 9.5
50
71.6
$1166
CW1 Graphite Mat Polished
21 x 9.5
50
71.6
$1166
CW1 Mirror Polished Silver
22 x 10
52
71.6
$1166
CW1 Graphite Mat Polished
22 x 10
52
71.6
$1166

Caractere CW1 Wheels for Wide Body Conversion

Finish
Size
Offset
Bore
Price
CW1 Mirror Polished Silver FRONT
20 x 9
20
71.6
$1099
CW1 Graphite Mat Polished FRONT
20 x 9
20
71.6
$1099
CW1 Mirror Polished Silver REAR
20 x 9
15
71.6
$1099
CW1 Graphite Mat Polished REAR
20 x 9
15
71.6
$1099
CW1 Mirror Polished Silver FRONT
21 x 9.5
20
71.6
$1299
CW1 Graphite Mat Polished FRONT
21 x 9.5
20
71.6
$1299
CW1 Mirror Polished Silver REAR
21 x 9.5
33
71.6
$1444
CW1 Graphite Mat Polished REAR
21 x 9.5
33
71.6
$1444
CW1 Mirror Polished Silver FRONT
22 x 10
22
71.6
$1299
CW1 Graphite Mat Polished FRONT
22 x 10
22
71.6
$1299
CW1 Mirror Polished Silver REAR
22 x 11
33
71.6
$1577
CW1 Graphite Mat Polished REAR
22 x 11
33
71.6
$1577