LLTeK Motorsports has once again expanded the lineup of body kit styling for the Porsche Cayenne II 958; this time through the talents and expertise of Belgian Tuner Caractere. It was only last year that Caractere launched its "Exclusive" division dedicated to Porsche® enthusiasts (see the Caractere body kit styling for the Panamera 970 here - you can also see the new corporate logo and badging just to the left.) The logo and colors have changed but the core attributes of the marque all remain true... choice of material (PU-Rim), superb manufacture, flawless fitment, and above all, proportion in design. These qualities are not just promised as available from Caractere - they are the standard. Call LLtek today, speak with a rep and get your questions answered; it's twelve years with Caractere now and it only gets better!
The Porsche Cayenne Sport Utility Vehicle (five seats plus cargo space) is classified in the mid-size luxury category. It was introduced in Europe in 2002 and made its North American consumer debut starting in 2003. While European markets have easy access to the turbo diesel versions of this Porsche - North America is offered gasoline engines with variations in six and eight cylinders. Accomodating the market demands of big power, the V8's in North America are the first to be built by Porsche since the 928 was discontinued back in 1995.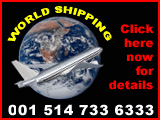 The Cayenne (because of German auto industry structuring) shares a lot in common with Volkswagen's Touareg and Audi's Q7 (i.e. - all three share an assembly line in Bratislava, Slovakia and check out the doors on a Touareg - they are virtually identical) but beyond a few considerations the
tuning, engineering and design are unmistakably Porsche
.
LLTek has noted that in the Cayenne's early days there were discussions concerning this SUV's styling - with some suggesting that this is exactly what the Cayenne was lacking. These questions are entirely subjective and incidental when LLTeK's lineup of body kit styling for the Cayenne is factored into an opinion. They are presented here for you to enjoy.