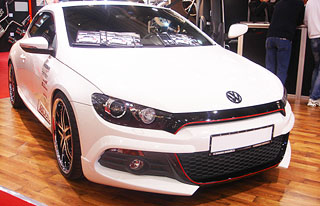 LLTeK has premium styling parts for your Volkswagen Scirocco designed and manufactured by Caractere. All body kit styling pieces in this offering for the VW Scirocco are precision fit standard using PU-rim - the same material used in OEM manufacture. This translates into highest quality tuning performance parts and hassle-free installation. LLTeK and Caractere have collaborated on euro tuning projects since 1999 and the kit for the VW Scirocco produced by Caractere (photo on left - Geneva - March 2009) has all the earmarks of a winner.

The full body kit (with TÜV certification and manufacturer's 5 year warranty) consists of Front Spoiler, Front Grill, Roof Spoiler, a set of Side Vents and Door Trims, a Rear Spoiler for original exhaust or the alternative Rear Spoiler with muffler that will convert to custom twin tips (1 left and 1 right). This third generation VW Scirocco follows in the progressive design tradition exemplified by first and second generations of VW's sports car spanning 1974-1981 and 1982-1992 respectively. The Caractere kit takes the look of the Scirocco from hot "stock" to hot "track."

Caractere also offers exclusive custom CW1 wheels which are available in 18'', 19',' & 20'' for the VW Scirocco. The graphite (dark gray) versions of this wheel are particulary sharp when combined with a contasted paint scheme. Photos, pricing and item details can be found listed below and all questions will be welcome when you phone. Call now.