LLTEK offers these powerful Euro Spec lighting modifications for your A6 in the form of Xenon HID Upgrades. Make the transition to "clear" corners with LLTEK"S S-YO bulb configuration. Or choose subtle styling in the form of "eyebrows".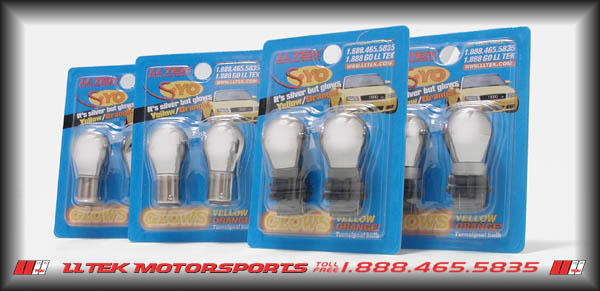 New Silver Chrome S-Yo Bulbs are the perfect way to compliment your e-code look.
S-YO turn signal bulbs only flash color (yellow/orange) when in use!! Wedge or Bayonet fittings.
A6 2.8 and 2.7T Sedan / Avant 1998 > 2001
( no fitment for 4.2 or allroad)

Part Number
Part Description
Price
HEL4B-01L (HAL) DRIV
A6 Headlamp Housing - Halogen - Driver's Side (left)
* 98>01 2.8 & 2.7 only - will not fit 4.2 or S6
$377.50
HEL4B-01R (HAL) PASS
A6 Headlamp Housing - Halogen - Passenger Side (right)
* 98>01 2.8 & 2.7 only - will not fit 4.2 or S6
$377.50
HEL4B-03R V2 (HID) DRIV
A6 HID Xenon - Driver's Side Housing only
* 98>01 2.8 & 2.7 only - will not fit 4.2 or S6
$533
HEL4B-03L V2 (HID) PASS
A6 HID Xenon - Passenger Side Housing only
* 98>01 2.8 & 2.7 only - will not fit 4.2 or S6
$533
HEL4B-07L V2 (HAL) DRIV
A6 Halogen Headlamp Housing - Driver Side Housing only (left)
* 2002 and on 3.0 & 2.7T only - will not fit 4.2 or S6
$499.50
HEL4B-07R V2 (HAL) PASS
A6 Halogen Headlamp Housing - Passenger Side Housing only (right)
* 2002 and on - 3.0 & 2.7T only - will not fit 4.2 or S6
$499.50
HEL4B-08L V2 (HID) DRIV
A6 HID XENON Headlamp Housing - Driver Side Housing only (left)
* 2002 and on - 3.0 & 2.7T only - will not fit 4.2 or S6
$533
HEL4B-08R V2 (HID) PASS
A6 HID XENON Headlamp Housing - Passenger Side Housing only (right)
* 2002 and on - 3.0 & 2.7T only - will not fit 4.2 or S6
$533
KAM4B-07
A6 Sedan / Avant Headlight Accents 1998 > 2001 MatchPaint FF
$88
PH00-01
Phillips DS2 HID Ballast
$233
DWDS2
DS2 Xenon Bulb -Color Temperature 5900K
$111
PH00-02
DS2 Xenon Bulb -Color Temperature 3500K
$122
DWH7
H7 HID Upgrade (low-Beam)*for Halogen version only
$388