you are here: LLTeK Home Page :: Press Release Central :: Full Rieger Bumper for the Audi TT Mk2
January 17, 2012 - Rieger Tuning produces Audi TT RS Bumper Conversion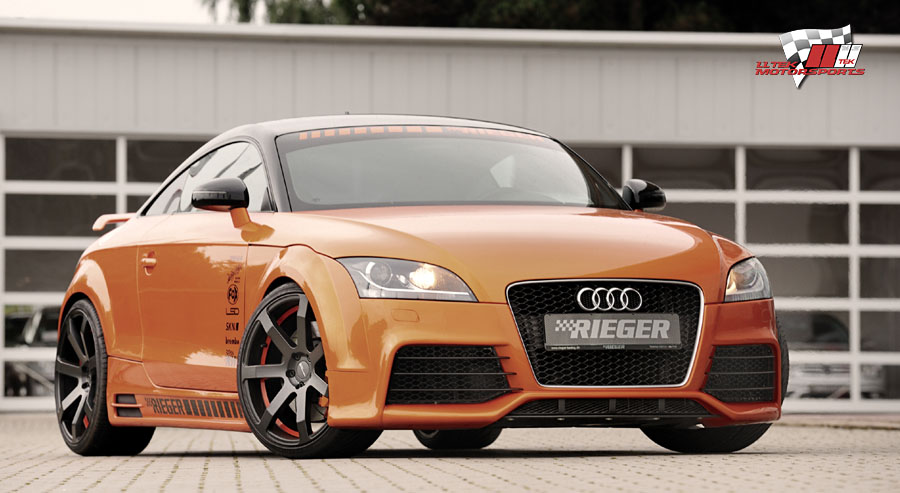 Audi TT sporting the RS look - exclusive styling option from world class tuner --- Rieger
.
Now celebrating 25 years of automania (self-induced fascination with fast cars), Rieger Tuning follows up on their original kit for the Audi TT 8J (first released March 16, 2007) with a full front bumper conversion to extend the line and provide choice alongside the front lip spoiler option. Same car with lots in common as the first go round, but 4 and a half years later this Audi TT looks like it wants to eat a chevy volt for breakfast.





Rieger performance styling parts from Germany are TÜV approved and put the unmistakeable Rieger edge in play... the modifications are designed and manufactured to install problem-free and stay on for the life of your car. And they do. After 25 years in business and world recognition, why would anyone expect anything less?

This slideshow features the new TT RS bumper, carbon look splitter, vented sideskirts, a full rear replacement bumper with lamella styling, a roof spoiler, quad exaust options and the DFS trunk deck spoiler. If you have questions about this project, call toll-free in North America 1 888 465 5835, a knowledgeable and friendly Rep will provide answers. Rieger Tuning celebrates 25 years of design and manufacture in 2012 and LLTeK is proud to showcase the design, manufacture, and results.

Call now and request a written quotation or send your request via e-mail to [email protected] ...and if you want your project ready-to-install, LLTeK can paint your parts and do that too. We deliver.