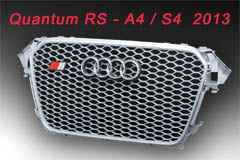 When you're waiting and impatience is in the air, time seems to pass soooo verrrry slowly; well, LLTeK is over the waiting bump and packing up all the grilles that were pre-orderdered. The facelift grilles came in on Monday and (no exaggeration) they exceed all our expectations. You can order one today.
The photographs are done and so are the part numbers, data base, stock labeling info etc. making these new grilles good to go. LLTeK has the new RS Quantum in two contrasting finishes - glossy piano black or matte silver.
Audi enthusiasts can order these aftermarket grilles as stand-alones or launch into tuner mode and pick the grille up at a 50% discount when purchased at the same time as a bumper. Currently, Rieger Tuning (located in Bavaria, Germany) offers a complete package for both the A4 and S4 - follow the links the links below for details and pricing -
we'll be happy to provide a quote via e-mail.
Note: Rieger also offers a bumper conversion that will accomodate an Audi OEM RS4 grille and it's hot, but you should keep in mind that the OEM grille is priced significatly higher. It's your choice and LLTeK will provide either - making sure you have German parts for your German car.