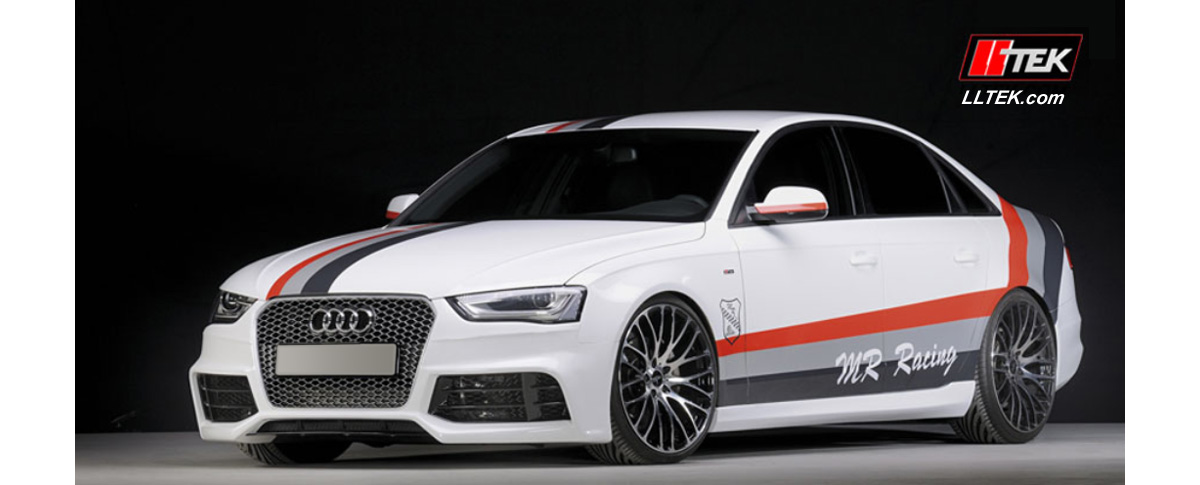 GO Bavaria
This body kit by Rieger offers two virtually identical bumpers - - the difference being: one bumper will accept a genuine OEM Audi RS4 grille (in gunmetal gray or piano black) while the other bumper (v.QG) is manufactured to accomodate / swap out the grille you already own. LLTeK now stocks a Quantum RS grille and it provides the RS styling minus the inherent freight - i.e. the best of both worlds. This actually means that you can get the RS look without the RS price. Here are the options:
Choose the (v.OEM) RS front bumper and OEM RS grille
or

Choose the (v.QG) RS front bumper and Quantum RS grille
or

Choose the RS front bumper (v.QG) and retain your current grille
It turns out that this modification project from Rieger is very flexible, featuring the most complete set of options we've seen in a long time including stainless steel exhausts. The options below list them all up - Call LLTeK with your questions - speaking with a friendly rep is the fastest way to sort them out.
Call with your questions and call at the time that is most convenient for you - LLTeK's business hours are 8:30 AM to 5:00 PM ET (GMT -5), Monday through Friday and it's toll-free in North America 888-465-5835.
TAP & CALL!



International callers can reach LLTeK at 001 514 733 6333.
Simplifying the Process
One call and your Audi A4 is one step closer to style changes you can be proud of and count on for quality - worthy of your Audi; call with your questions and speak with a real person who knows these products! Get the ins and outs on a project for your vehicle and get all details confirmed via e-mail followup. If time zone differences (LLTeK business hours are 8:30 AM - 5:00 PM ET) are an obstacle - click the link below and communicate via e-mail. Get your questions answered and your pricing in writing.



Request Info on Rieger Styling for Audi A4 B8