LLTeK is pleased to announce the development and extension of the Sabre RS bumper program to include an upgrade for the Audi A8 D3 facelift. In large part, the front bumper design is cloned up from the prefacelift RS Sabre with one huge distinguishing difference - the grilles. The best part of the program is the ALL-IN pricing of components and shipping.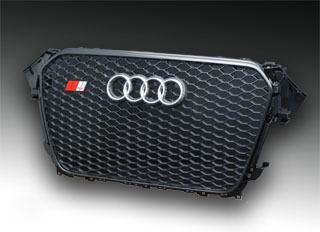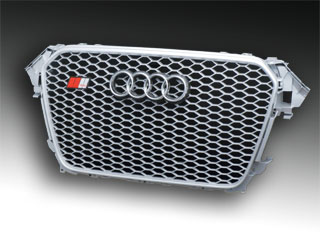 Sabre RS bumper
includes choice of RS grille in Piano Black (left) or
RS Silver
(right with) rings optional.
Yes, both grilles are honeycomb RS mesh stylings and both are available in RS Mesh - BUT - the Quantum grille in this new bumper takes its cues from the 2011 A8 D4 grille with squared shoulders - the Audi OEM styling feature common to all the latest models. Make your choice between glossy piano black or RS silver. In short, you could drop up to 5 years off the appearance of your car and gain one extremely pleasing machine in the bargain.
Contact LLTeK via e-mail for more info
or give us a call on the toll-free: business hours are 8:30 AM - 5:00 PM (EST), Monday through Friday. Call now at 1 888 465 5835 and talk about when you can expect to get this project done.