25 years of Experience Styling German Cars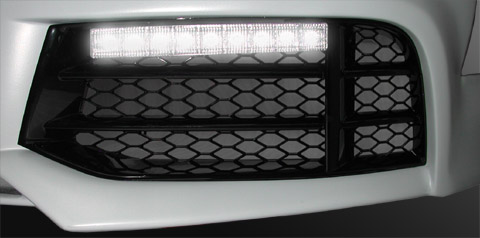 The UberHaus RS Sabre bumper for the Audi A8 D3 years 2006 - 2010, is yours for the taking!. This is the bumper upgrade you've been waiting for - that bumps your Audi up 1 generation. LLTeK announces an all-in upgrade in its A8 / S8 D3 Sabre bumper programme. As part of the package, lower vent LED /DRL's are included, and these lights have now been upgraded to a larger, brighter performance product. This bumper provides a clean, factory RS look. The Quantum RS grill, a central feature, presents a no-license-plate-panel / ultra-clean appearance featuring OEM RS style honeycomb mesh seen on all Audi RS cars. However, a euro-spec license frame for a plate can be neatly attached if required.

Style enthusiasts can choose between Audi's square shoulder black or silver RS look grille. Orders for Europe or other countries that require a Euro-style plate can have the same black or silver RS Quantum grill version with a fixed Euro-sized plate holder. The bumper accepts all 4 park distance sensors. If your car does not have sensors, a delete option is available at no cost. The Sabre bumber styling is the absolute latest in Audi A8 D3 styling. Ask any question you have here via e-mail.

Call with your questions and call at the time that is most convenient for you - LLTeK's business hours are 8:30 AM to 5:00 PM ET (GMT -5), Monday through Friday and it's toll-free in North America 888-465-5835.
MOBILE TAP & CALL!



International callers can reach LLTeK at 001 514 733 6333.
Sabre RS8 Bumper / Grille Upgrade by Uberhaus
The slideshow link below will provide variations in paint, lighting, and grille options. Example above shows RS silver grille, fully painted lower bumper lip, oem corner vents, LED's not installed.One call and your Audi A8 D3 is one step closer to style changes you can be proud of and count on for qualityi; call with your questions and speak with a real person who knows these products! Get the ins and outs on a project for your vehicle and get all details confirmed via e-mail followup. If time zone differences (LLTeK business hours are 8:30 AM - 5:00 PM ET) make your phone call an obstacle - click the link above and communicate via e-mail. Get your questions answered and your pricing in writing.





The photos of the Sabre bumper above & below (see Features We Like further down this page) are original development pictures received from Portugal. So, to give you a better idea of the finished look, here are 3 photos of other Audi RS cars that provided the source inspiration for the the Sabre II bumper.