you are here: LLTeK Home Page :: Press Release Central :: Rieger Celebrates 25 years
April 26, 2012 - Rieger Tuning and the 25-Year VW Golf VI Body Kit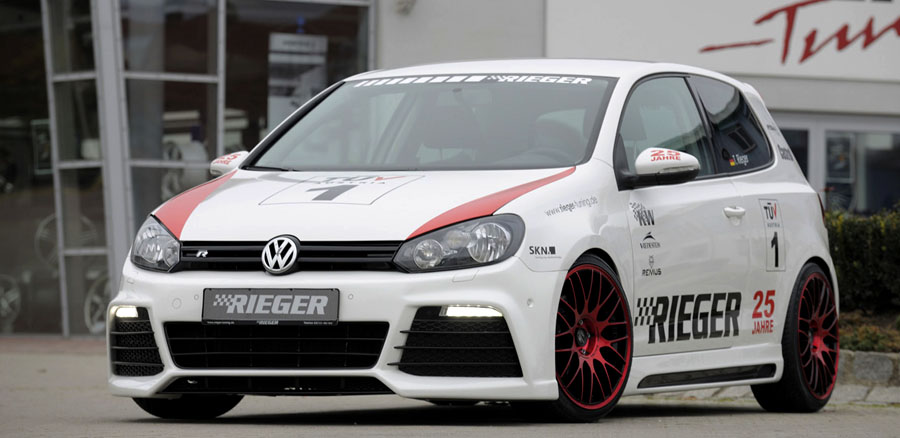 Rieger has released a complete front bumper replacement (plus,plus,plus) on their 25-year celebration VW Golf VI.
It's 25 years since Tony Rieger started out in a modest garage, driven by the need to make cars off the lot look like the racers he knew they could be. The Golf VI pictured above is a direct descendant and result of that focused effort; its got the chip and the suspension and the wheels and the exhaust and the big brakes too - very important design modification if you make the car go fast, hmmm? After 25 years of not-overnight success, Rieger Tuning put the signature on this Golf 6 to celebrate. You've got reason to celebrate if you own one too (the bodykit does equally well on the Golf VI GTI)!

The modifications (parts are TÜV approved) include a carbon look splitter and sideskirts, a rear valence or the more modest exhaust insert. They're all included in LLTeK's professional MatchPaint programme which means your bodykit can be shipped to you ready-to-install. The parts are designed and manufactured in Germany - no surprises! The options are numerous, but when you get down to the details we're only a phone call away. These performance styling parts will put an edge on any OEM Golf VI, so call now for details.

If you have questions about this project, call toll-free in North America 1 888 465 5835, a knowledgeable and friendly Rep will provide answers and you can request a written quotation - you can find all details and prices concerning VW Golf VI styling here.