VS Wing - Discreet Aero Styling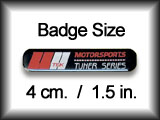 LLTEK has this low profile rear spoiler for the A4/S4, exclusively. Installation requires a clear mind and steady hand only and is accomplished using supplied adhesives specifically made for accessories like the VS Wing - resulting in an easy "do-it-yourself" permanent installation. This low profile wing will sit flush on the rear trunk deck and possesses an understated demeanor. It is definitely a subtle approach to aero design.

Click on any image to view an enlarged version.
· Conservative Thin Styling
· Easy "Do-It-Yourself" Installation

A4 S4 B5 VS Wing - Rear Spoiler
Part Number
Part Description
PC
Price
EXA48D- 14 (B5)
Discreet Low profile rear spoiler for the A4/S4 1996>2001
CC
$266
LUXA4B5-07 (B5)
B & C Pillar kit in carbon fiber (4 pieces)
n/a
$144
Click and View More Spoilers for the Audi A4 B5...



Click and Return to the A4 B5 Page...



Click and View LLTeK Audi Index...



Click and Return LLTeK Main Home Page Index...