Body Kit Styling
Facelift Audi A6 C5 Sedan & Avant
Each image next to descriptive text will lead (with a click) to an LLTEK website page detailing body kit styling modifications or upgrades that are sourced from recognised European designers and manufacturers specifically for your pre-facelift Audi (1998 - 2001). An LLTEK Rep will field any questions you may have regarding compatibility, installation or availability. Call toll-free now in North America at 1 888 465 5835 or call international at 001 514 733 6333 - get your answers in real time. LLTeK business Hours are 8:30 AM - 5:00 PM (ET) Monday through Friday.
Side Skirts Aero for the Audi A6 4B - Sedan and Avant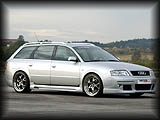 German Designer and Manufacturer Rieger has Sideskirt styling for the Audi A6 4B - Sedan and Avant. This aero option will definitely take the "domestic" out of an A6. Made in Germany - delivered to your door.
"RS6 Look" Trunk Lip Spoiler for the Audi A6 4B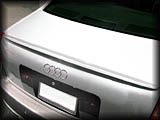 This speed-styling accessory features a glue (auto-grade adhesive) and bolt-on installation that will boost the appearance of any A6 (2.7T, 2.8, 3.0 and 4.2) and is much like the spoiler found on the renowned RS6.
A6 4.2 Air Intake Scoops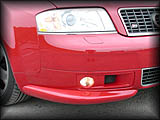 You may alter the look of your 4.2 A6 with Air Intake Scoops - aesthetically a winner and an upgrade to a more agressive stance. See below for more info on the lip spoilers.
A6 AVANT Hatch Styling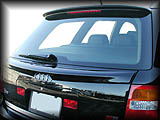 This rear spoiler combination will add simple style. The Type M A6 / S6 Avant Roof Spoiler augments the existing OEM piece and ehances the 3rd Brake Light function during daytime running. This in addition to the faster look - especially - when combined with LLTEK's A6 / S6 Avant hatch extension. Click on image and view a page intended to provide a walk-around
Audi A6 / S6 C5 4.2 Split Lip Bumper Upgrade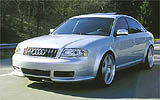 This page will provide an assortment of perspectives allowing you to assess this easy-to-install enhancement. LLTEK Price -$377
A6 Sedan Trunk Lip Spoiler - 1998 and on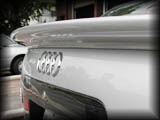 This A6 Trunk Spoiler is bolder and racier than the model above. Click on image to view multiple detail images.