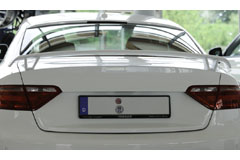 The photo at right and 3 others below were taken in the Rieger Tuning showroom - a large bright space containing a collection of cars that have been modified and kept for posterity over the years.
This latest addition features a styling spoiler designed and manufactured at Rieger's factory in Germany. It can't be compared to anything you'll see in DTM competition or out on the Le Mans, but it will put the speed & track edge look on your Audi A5 or S5.
This tuning accessory is a permanent bolt-on modification that will provide an agressive finish; however, the scale and proportion is evenly matched to your Audi's lines. Your car will retain its design integrity. BTW, Rieger celebrates 25 years of tuning experience in 2012!
Part#
Description
Composition
Paint Code
Price
RIEA58T-38
Rieger Spoiler for the Audi A5 Audi S5
All mounting hardware included
Urethane
CC
$877

Fitment for Audi A5 Coupe, Cabriolet and S-Line
Fitment for Audi S5 Coupe, Cabriolet
Rieger DFS spoiler not compatible with Audi Sportback or RS5