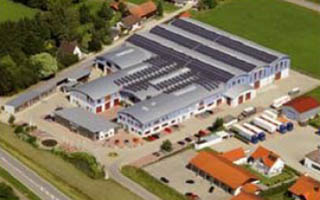 Rieger Tuning (2008 photo of facility at right) is located East of Munich and North of the Austrian border in Bavaria. During the rise to prominence of Audi cars in North America, LLTeK and Rieger were in the vanguard of aftermarket performance parts for tuning enthusiasts. This relationship has continued to flourish since 1996.

LLTeK is proud to present this latest package of bodykit styling by Rieger for the Audi A5 sportback - the most recent extension to the model line.

All product is designed and produced on site. The material of choice is almost exclusively ABS plastic, known for precision replication out of the mold process using thermo vacuum presses. Precise milling with CNC accounts for the persistent quality that comes out of this factory. This is the result of passion and dedication - roots and humble beginnings that began in a simple little garage. You can purchase Rieger products with confidence.

This package (note - parts may be purchased separately) consists of a full front bumper / front lip spoiler up front with an optional splitter, optional OEM or aftermarket grille, sideskirts with venting (mesh included) and rear treatment in the form of a valence or in a more compact form as diffusor/insert. Rieger's exclusive "Carbon Look" is offerred on a variety of these aftermarket pieces that are comfortable on the street or track. Stainless Steel Sport mufflers with quad tips will provide the muscular look every time you pass. Call LLTeK Toll-Free in North America at 1 888 465 5835.
Rieger Tuning RS5-Look Pricing Table

Line ID#
Product#
Description
Material
Price
Line #1
RIEA58T-42 (B8)
A5/S58T(B8) RS5-LOOK Front Bumper
For Use With Original Headlamp Washers North American Standard
Grille Replacement Optional - Grille not included
RIE305889 Fog Light Resistor Kit Required for all Fog Light Disconnections
ABS
$1099
Line #2
RIEA58T-43 (B8)
Special Order --- A5/S58T(B8) RS5-LOOK Front Bumper
For Use With Original Headlamp Washers & Parking Sensors
Grille Replacement Optional - Grille not included
RIE305889 Fog Light Resistor Kit Required for all Fog Light Disconnections
ABS
$1099

Rieger Tuning has released first images of the new RS5 Look Bumper incorporating an OEM RS5 grille - fitment for the Audi S5 and Audi A5 S-Line.
Full front bumper requires air scoops - RS5 OEM grille and halfwidth splitter purchased optionally.
Call for a quotation - Toll Free in North America 1 888 465 5835 or International at 001 514 733 6333 ::: Monday - Friday 8:30 AM to 5:00 PM (GMT -5:00)

Line #3
RIEA58T-44 (B8)
Special Order A5/S58T(B8) RS5-LOOK Front Bumper
RIE305889 Fog Light Resistor Kit Required for all Fog Light Disconnections
Grille Replacement Optional - Grille not included

ABS
$1099
Line #4
RIEA58T-45 (B8)
Special Order A5/S58T(B8) RS5-LOOK Front Bumper
For Use With Original Parking Sensors
RIE305889 Fog Light Resistor Kit Required for all Fog Light Disconnections
Grille Replacement Optional - Grille not included

ABS
$1099
Line #5
RIE305889
Auxilliary Fog Light Resistor Kit
Specially developed by LLTeK to eliminate "Bulb-Out" Dash Warning
Required for all Fog Light Disconnections on Rieger Bumpers
RIEA58T-42/43/44/45
-
$122


Rieger RS5 Look bumper (shown with optional OEM RS5 grille and splitter)- MatchPainted, assembled and shipped March 2011.

Line #6
RIEA58T-46 (B8)
A5/S58T(B8) RS5-LOOK Front Bumper Splitter 08 - 11;
ABS
$199
Line #7
RIEA58T-47 (B8) CAR
A5/S58T(B8) RS5-LOOK Front Bumper Splitter CARBON Look 08 - 11
ABS
$255
Line #8
RIEA58T-48 (B8) L
RS58T(B8) Left Front Intake Grill Gloss Black
OEM
$188
Line #9
RIEA58T-49 (B8) R
RS58T(B8) Right Front Intake Grill Gloss Black
OEM
$188
Line #10
RIEA58T-49 (B8) RA
RS58T(B8) Right Front Intake Grill Gloss Black (Adaptive)
OEM
$199
Line #11
RIEA58T-50 (B8) GM
RS58T(B8) Front Grill Gun Metal OEM
Requires

RIEA58T-53 (B8)

Form Core
OEM
$1477
RS5 Grille Conversion Pricing

Line #12
RIEA58T-51 (B8) GB
RS58T(B8) Front Grill Gloss Black OEM
Requires

RIEA58T-53 (B8)

Form Core
OEM
$1477
Line #13
RIEA58T-53 (B8)
RS58T(B8) Front Grille Foam Core
Required to upgrade to Low Profile OEM RS5 Grille RIEa58T-50/51
OEM
$99
Line #14
RIEA58T-52 (B8)
RS58T(B8) Front Grill License Plate Holder Gloss Black OEM
OEM
$188
#15
QGYT-A58T(B8) PFL GBK
Quantum Gloss Black Grille
Badging and Rings Optional
Fixed Integral Euro License Plate Bar
ABS
$488

For Correct Fitment of Grilles - please specify if your car is USA / Canada car versus European spec!

#16
QGYT-A58T(B8) PFL SGB
Quantum Gloss Black Grille Silber Frame
Badging and Rings Optional
Fixed Integral Euro License Plate Bar
ABS
$488
#16A

QGJC-A58T(B8) PFL GBK
Quantum Piano Black RS



Fitment for Audi A5 S5 2007 - 2012
Euro License Plate Bar on Request
LLTeK / RS Badging on Request
Rings and Ring Holder Integrated

ABS
$699
Rieger Tuning Sportback Syling - Front Bumper Lip Spoiler and Splitter

Line#
Part#
Description
Composition
Price

1

RIEA58T-01 (B8)
Front Spoiler (1 piece wheel-to-wheel)
View S-Line parts on Rieger Audi S5 B8 Page
ABS
$566

2

RIEA58T-02 (B8)
Front Spoiler Splitter
View S-Line parts on Rieger Audi S5 B8 Page
ABS
$199

3

RIEA58T-03 (B8) CAR
Front Spoiler Splitter --- Carbon Fiber Look
View S-Line parts on Rieger Audi S5 B8 Page
ABS
$255
Line#
Part#
Description
Composition
Price

4

RIEA58T-70 (B81) SB
A5 Sportback Side Skirt (Left With Venting)
ABS
$388

5

RIEA58T-71 (B81) SB
A5 Sportback Side Skirt (Right With Venting)
ABS
$388

6

RIEA58T-72 (B81) SB CAR
A58T(B81) Sportback Side Skirt Left --- Carbon Fiber Look with venting

Venting Mesh installed when ordered with MatchPaint option
ABS
$422
RIEA58T-73 (B81) SB CAR
A58T(B81) SB Side Skirt Right --- Carbon Fiber Look with venting
ABS
$422



Audi A5 "Luftseiden" Sideskirt Styling by Rieger - Introduced Spring 2012



6b

RIEA58T-14L (B8)

Click and view new sideskirt styling introduced in 2012
ABS
$322

6c

RIEA58T-14R (B8)

Click and view new sideskirt styling introduced in 2012
ABS
$322
Rieger Tuning - Rear Valence / Rear Insert and Exhaust Options

Line#
Part#
Description
Composition
Price
RIEA58T-80 (B81) SB
Sportback Rear Insert (OEM Exhaust 2 Tips Left)
ABS
$555
RIEA58T-81 (B81) SB CAR
Sportback Rear Insert CARBON LOOK (OEM Exhaust 2 Tips Left)
ABS
$611
RIEA58T-82 (B81) SB
Sportback Rear Insert (OEM Exhaust 1 Tip Left + Right)
ABS
$555
RIEA58T-83 (B81) SB CAR
Sportback Rear Insert CARBON LOOK (OEM Exhaust 1 Tip Left + Right)
ABS
$611
RIEA58T-84 (B81) SB
Sportback Rear Insert (RIEGER SPORT MUFFLER QUAD TIPS)
ABS
$555
RIEA58T-85 (B81) SB CAR
Sportback Rear Insert CARBON LOOK (RIEGER SPORT MUFFLER QUAD TIPS)
ABS
$611


RIEA58T-74 (B81) SB
Sportback Rear Valence for OEM Exhaust (2 Tips Left)
ABS
$633
RIEA58T-75 (B81) SB CAR
Sportback Rear Valence --- Carbon Fiber Look for OEM Exhaust (2 Tips Left)
ABS
$688
RIEA58T-76 (B81) SB
Sportback Rear Valence for OEM Exhaust (1 Tip Left + Right)
ABS
$633
RIEA58T-77 (B81) SB CAR
Sportback Rear Valence --- Carbon Fiber Look for OEM Exhaust (1 Tip Left + Right)
ABS
$688
RIEA58T-78 (B81) SB
Sportback Rear Valence for Rieger Sport mufflers (Quad Tips)
ABS
$633
RIEA58T-79 (B81) SB CAR
Sportback Rear Valence --- Carbon Fiber Look for Rieger Sport mufflers (Quad Tips)
ABS
$688




8

RIEA58T-87 (B81) SB
Sport Mufflers with Quad Tips --- 4 Cylinder 1.8T FSI or 2.0 Iitre+TDI
115 x 85 mm tips
(Fitment for Rear Valence & Insert)
Stainless Steel
$1999

9

RIEA58T-88 (B81) SB
Sport Mufflers with Quad Tips --- 4 Cylinder 2.0T; 6 cylinder 2.7 & 3.0TDI
115 x 85 mm tips
(Fitment for Rear Valence & Insert)
Stainless Steel
$1999

10

RIEA58T-89 (B81) SB
Sport Mufflers with Quad Tips --- V6 3.2 & 3.0T
115 x 85 mm tips
(Fitment for Rear Valence & Insert & Insert)
Stainless Steel
$1999