Body Kit from Rieger for the BMW 4er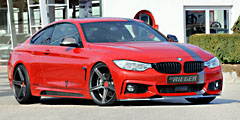 If you've been looking for aftermarket parts or body kit styling modifications for your 4 series coupe, cabrio, or gran touring - you've made a good choice in visiting the LLTeK website: As of January 2016, LLtek offers outstanding tuning options for the BMW 4er F32, F33, and the F36 Gran Touring (fastback 5-door.) The kit, designed and manufactured by Rieger Tuning (based in Bavaria, Germany), can be seen at the link with part numbers, descriptions, model compatibilities and pricing. To view this information click - Rieger Body Kit Styling for BMW 4er F32 F33 & F36

Designed and manufactured specifically for the coupe, cabriolet, and gran touring the Rieger styling package consists of a splitter, sideskirts,and rear inserts with exhaust options. The styling is straight up Bavarian tuning at its best. As a sweetener and extra for owners of the 4 Series - there is always Rieger's exclusive carbon fiber look. Brand new for 2016.

---
A Condensed Profile on the BMW 4 Series
The BMW 4er line has been in production since 2013; the three models in this series are assembled in Germany at Regensburg (F33 convertible), Dingolfing (F36 gran touring) and Munich (F32 coupé.) It is longer and wider than 3er E-series that it replaces and remains a car focused on the driver's experience. Anyone ever behind the wheel of an inline 6 BMW engine will confirm the sport driving credentials.

The interiors of these machines are tasteful and refined - featuring lightly contrasted stitching and chestnut wood trim accenting. LLTek is pleased to be able to help you personalize your Bavarian auto.

LLTeK Motorsports continues to be an excellent choice for body kit styling and performance accessories. Call LLTek Toll-Free in North America at 1 888 465 5835 and get more info.