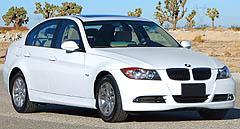 The 4-door saloon E-90 came off the design table with sharp, harder lines. The trend continues to this day and signals a major turning point away from the softer rounder euro aesthetic that dominated core styling for decades.
Rieger Tuning, always a step ahead of the corporate constraints, brings a styling package to the table with track & speed sensibilities. Compare the white oem 325 on the right with the modified bimmer above. Same car - way big different mindset.
The stance is achieved with wheels and suspension for sure, but the demeanor is all bumper, side skirts, and rear valence. The package is capped with front lip, trunk and roof spoilers - all of these items available exclusively in Rieger's Carbon Look.
LLTeK business hours are Monday through Friday 8:30 AM to 5:00 PM ET - We can be reached toll-free at 1 888 465 5835 and we will be pleased to answer any questions about German parts for German cars.
Rieger Components and Pricing for BMW 3 Series E90



After Hours? Request Info via Email

Image & Part#
Description
Composition
Price

RIEBME90-02
Front Bumper with PDC
ABS
$955
RIEBME90-01
Front Bumper
ABS
$922
RIEBME90-03
Front Bumper with WASHER
ABS
$977
RIEBME90-04
Front Bumper with WASHER and PDC
ABS
$999

+27% hp and +21% torque

RIEBME90-15CAR
Front Splitter - 2 pieces
Carbon Fiber Look
ABS
$299
RIEBME90-14
Front Splitters - 2 pieces
ABS
$255

RIEBME90-06R
AMD Sideskirt (Right)
Advanced Multi Duct
ABS
$311
RIEBME90-05L
AMD Sideskirt (Left)
ABS
$311
RIEBME90-07L CARBON
AMD Sideskirt (Left) Carbon Fiber Look
ABS
$388
RIEBME90-08R CARBON
AMD Sideskirt (Right) Carbon Fiber Look
ABS
$388

RIEBME90-09
Rear Valence - Quad Exhaust
Fitment for all models except 335i
ABS
$522
RIEBME90-10 CARBON
Rear Valence Quad Exhaust
Carbon Fiber Look
Fitment for all models except 335i
ABS
$655

RIEBME90-11
Rear Valence (335i)
ABS
$522
RIEBME90-12 CARBON
Rear Valence (335i)
Carbon Fiber Look
ABS
$655

RIEBME90-13
Rear Spoiler
PUR
$511

RIEBME90-16
Roof Spoiler
ABS
$188
RIEBME90-17CAR
Roof Spoiler in Carbon Look
ABS
$211