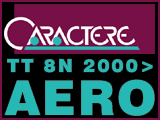 European Belgian designer/manufacturer Caractere and LLTEK Motorsports are pleased to announce an "Americas" distibution arrangement. The agreement will provide the North American Audi community and Caractere with consistent, quality distribution and service through LLTEK's established channels and networks. LLTEK's dominant position and track record in the Audi community was instrumental in securing full-service access to the Caractere line.
The Caractere Line is a significant addition for LLTEK and represents ongoing committment to quality and customer service and diversity. LLTek is proud to present the Caractere Line of Styling for Audi cars.
"TT 8N Kit" 2000>
TT Part Number
Description of parts
Price
CAR8NTT-14
Front Spoiler
$967
CAR8NTT-16
Rear Valance - one exhaust cutout
$879
CAR8NTT-15
Rear Valance - two exhausts cutout
$965
CAR8NTT-18
Trunk Spoiler with painted buttons
$647
CAR8NTT-19
Lower door trim set
$439
CAR8NTT-17
Front grill - 3D with Caractere or LLTek Badge
$439
CAR8NTT-20
Side Enhancer Kit
$439
FX8N-01
TT 8N Exhaust Tips - Adjustable - Stainless 304

$99 ea.

International - 001 514 733 6333
Special domed urethane buttons will accompany each TT kit so the Caractere trunk spoiler mounting will not require local extra cost filling and repainting to cover the few factory holes where the factory rear spoiler was originally attached. TT's with 180 HP will receive the single outlet rear valance. 225HP will receive the dual outlet rear valance. All kits will come with the Caractere Badge.