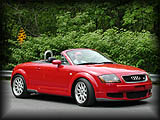 At the time (back in the year 1999 before the wide mouth grille had seen the light of day), you could get a coupe or roadster with a 180 or 225 horses (the first a front wheel drive and the latter in quattro.) LLTeK had one of each at the time.
TT Modifications from Caractere
dressed up our roadster and if you click on the image to the right you can see all the pictures that came from Belgium and the ones we did ourselves here. The OEM front bumper was capped and painted duotone to accent the rear portion of the rockers. A rear valence with oversize exhaust tips gave the car some much-needed muscle and the swap out styling grille holds up to this day.
All these parts arel manufactured in PURIM to the same standards of excellence as when originally released. You're in the right place to find styling and modification parts for your Mk1 TT. Call for a quotation or answers to your question. LLTek business hours are Monday to Friday, 8:30 AM to 5:00 PM EST - we can be reached toll-free in North America at 1 888 465 5835 -- International calls will be answered at 001 514 733 6333 (GMT -5:00) - answers and quotations provided at no charge.