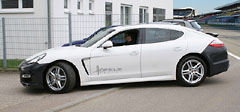 Hofele Design has a body kit styling and tuning package for the luxury sports sedan Panamera 970. Europe (and in particular, Germany) has a jump on new model availability and Hofele has used this time to design, test and manufacture a kit for the Panamera putting this offering in pole position. Enthusiasts are provided options with front and rear bumper modifications and sideskirts - the "Rivage GT", Hofele's rear wing (which does not interfere with the functionality of the original OEM, but rather enhances the downforce) is available for the the entire lineup with special allowances for the "Turbo" version of the Panamera.
Mirror housings, big brake kits, wheels and an electronic lowering module are also in the lineup (see images, pricing and descriptions below.) If you have questions about this styling upgrade for the Porsche 970 or any other products offered by LLTeK, please call toll-free in North America at
1 888 465 5835
- 8:30 AM until 5:00 PM (EST).
Pricing and Parts Description For Panamera, S, 4S and Turbo

Part#
Description
Composition
Price
HF970-9351-P
Complete front bumper
for cars with Park Assist - (PDC/Parktronic)
Panamera S or 4S requires part# H970- 9352 "Turbo-Indicator-Set".
Hi-Performance Fiberglass
$4999
HF970-9351
Complete front bumper
for cars without Park Assist - (PDC/Parktronic)
Panamera S or 4S requires part# H970- 9352 "Turbo-Indicator-Set".
Hi-Performance Fiberglass
$4999
HF970-9352
HS / 4S Turbo-indicator-Set Light Pack
integrated LED-daytime running lights,
indicators and night light design
2 piece set - left and right
-
$1599
HF970-9353
Complete rear bumper with center diffusor.
Fitment for original Porsche Panamera quad tip muffler
or with the Hofele quad tip sports muffler.
Includes additional center fog lamp, lamellas
and mounting brackets for (PDC-Parktronic) sensors.
Hi-Performance PKG
$5599
HF970-9354
Rivage GT side skirts (Left & Right)
-
$3511
HF970-9357
Rivage GT rear spoiler - non-turbo
Mount / Installation using OEM Original Spoiler
hi-performance
PKG
$2699
HF970-9357-CB
Rivage GT rear spoiler - non-turbo
Mount / Installation using OEM Original Spoiler
multi-coated clear finish
carbon fiber
$4199

Rivage GT rear spoiler - non-turbo


HF970-9357-CB-turbo
Rivage GT rear spoiler - turbo fitment only
Mount / Installation using OEM Original Spoiler
hi-performance
PKG
$2999

Available for the Panamera Turbo in Carbon Fiber! The Hofele wing is offset mounted to precisely accomodate the auto-deployed OEM rear spoiler.
Your original retains full functionality. The styling results in an increased downforce.

HF970-9357-CB-turbo
Rivage GT rear spoiler - turbo fitment only
Mount / Installation using OEM Original Spoiler
carbon fiber
$4499


HF970-9355
Quad Tip Sport Muffler For OEM Bumper
TUV Homoligated 95 db Compliant
Dual Round 90mm tips per side
Specific engine will be confirmed at time of ordering
*not compatible with vehicles equipped with flap control
Stainless Steel
$4399
HF970-9356
Quad Tip Sport Muffler For Rivage GT
TUV Homoligated 95 db Compliant
Dual Oval 118mm x 80mm tips per side
Specific engine will be confirmed at time of ordering
*not compatible with vehicles equipped with flap control
Stainless Steel
$4399
HF970-9358-SE
Quad Tip Aggressor Muffler For OEM Bumper
NON-Homoligated Export Version
Dual Round 90mm tips per side
Specific engine will be confirmed at time of ordering
*not compatible with vehicles equipped with flap control
Stainless Steel
$4399
HF970-9358-HE
Quad Tip Aggressor Muffler For Rivage GT
NON-Homoligated Export Version
Dual Oval 118mm x 80mm tips per side
Specific engine will be confirmed at time of ordering
*not compatible with vehicles equipped with flap control
Stainless Steel
$4399
HF970-9359
Quad Exhaust Tips (All)
Welding fitment. For use with OEM or Rivage GT rear bumbper
For vehicles with and without sound valves
Dual Round 90mm tips per side
Specific engine will be confirmed at time of ordering
Stainless Steel
$1899
HF970-9361-CB
Carbon Fiber Mirror Housings (Left & Right)
multi-coated clear finish
Carbon Fiber
$1999
HF970-9360
ETS Electronic Lowering Module
40/30mm and additional +/- 20mm fine adjusting
Only for cars with air suspension
-
$2699


Click on the Red 970 above and view 2 tons more pictures