MatchPaint Service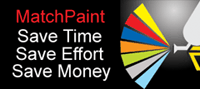 LLTEK Motorsports is proud to offer its customers our exclusive MatchPaint Program. When you have reached a decision to place an order with LLTEK about the "look and style" of your car; it means LLTEK Motorsports will play an important role in providing you with the best possible start. An important question an LLTEK representative will ask is what arrangements, if any, have been made for completing "the look". Our money-saving and quality-assured MatchPaint program is simply another special service provided by LLTEK to help our customers complete their projects. LLTEK has the expertise, resource and facilities, in-house, to support its MatchPaint Program.

Our MatchPaint program is simple. Just give us the paint code for your Porsche vehicle, and we will paint your parts to match the code. Your code can be found by following the link - Paint Code for Porsche Identification Page. The parts you have purchased will arrive in All you have to do is have your parts installed when you receive them.





MatchPaint values can be found on product tables in the "PC" column next to the price.
MatchPaint Products

German-based Herberts-Standox is known globally and is recognised for providing the highest standards in automotive painting products. It should be no surprise that Herberts-Standox paint is approved for use with Porsche cars as it meets or exceeds requirements. Our thinking on this is that if it is good enough for Porsche Cars North America Inc.; then it's certainly going to be good enough for our customers and their LLTEK supplied products. We know the parts you have purchased will fit; as we work closely with talented designers and manufacturing experts to ensure that your parts are compatible with the North American version of your car. Wouldn't it be good to be assured that your parts will share the identical color as your original paint? </ P>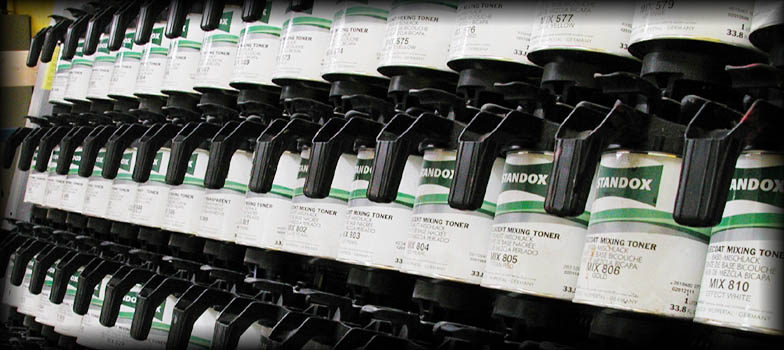 MatchPaint Process
LLTEK carries a large and diversified line of product from many European and domestic sources. Close working relationships with these suppliers and familiarity with the many different composite materials employed by each different manufacturer make LLTEK the ideal choice to paint your part(s). Additionally, LLTEK's MatchPaint prices are generally well below the industry norm because our aim is to provide you with extra customer services that our competition does not or cannot provide. MatchPaint pricing codes are listed next to the part description column under the heading PC (Paint Code).

Of course you may already have an established relationship with a paint shop that also provides quality, service and value. However, ask your prospective shop if all of the following steps will be done - because this is how LLTEK does it.
Step 1) Prefit & Quality Control*
All new parts are prefit to ensure they will fit your vehicle correctly. All parts are checked for minor defects and damage; and repaired if necessary.
Step 2) Pre-Sanding
Each part is pre-sanded to remove any surface imperfections.



Step 3) Full Surface Sanding & Quality Control*
Parts are then given a thorough full surface sanding to smooth out their entire surface area. Once sanded, parts receive a second quality control check.
Step 4) Priming
All parts are first sprayed with an adhesive primer, and then sprayed again with a two-part catalyst primer with hardener. (because different parts are made with different materials, this process and the type of catalyst may vary).
Step 5) Wet Sand & Quality Control*
All parts are then wet sanded to ensure a smooth and even surface on which the paint will be applied. Again, each part receives a thorough quality control check to make sure the surface area is without imperfection.
Step 6) Painting & Quality Control*
All parts are painted using Herberts-Standox paint. Once painted, all parts are again submitted for a quality control check to ensure the paint quality meets or exceeds our in-house high level of standard
Step 7) Clear Coat & Quality Control.*
When called for by Porsche specification, parts are clear-coated to provide that "hi-gloss" look that Porsche enthusiasts expect. Again parts are submitted for a quality control check to make sure the part continues to meet or exceed our stringent standards.


Step 8) Curing
Parts are left to "rest and cure" for 24 hours to allow the paint and clear coat to harden, and to allow for custom and accessory parts to be installed when ordered by the customer.
Step 9) Buffing
Before any part is shipped, it is buffed using special Carnauba wax compound. This makes the paint color look "deep and factory fresh". Again, we allow the painted part to "rest and cure" for another 24 hours before shipment. This allows the wax to harden to form a protective shell over the part.
Step 10) Final Quality Control* & Shipment
Only after parts pass a final quality control checkpoint are parts submitted to our shipping department for special "MatchPaint" packaging (using special protective materials and boxing), and shipment.
* Quality Control: There are 6 quality control checkpoints in our painting process. If any part does not pass a particular checkpoint, it will be sent back several steps in the process to resolve the particular issue.




Timing is Everything
As you can see, we take our MatchPaint program seriously. We paint parts daily for many customers and backlogs can develop. Orders are submitted to our in-house paint facility on a first-come first-serve basis. Often, we group orders by color to speed up the painting process. Normally it takes about 10 business days from order placement to shipment (provided the part is in stock). On occasion it can be less, and during certain peak periods during the year it may take more. We respectfully ask all our MatchPaint customers to consider this when ordering.
Will My MatchPaint Part Match the Color of my Car?
If your car is a recent model without excessive exposure to UV rays, and the color has not faded; the paint match will be accurate. Our MatchPaint program paints parts as if they are new; not faded. Our program is intended to match the original factory color. LLTeK's MatchPaint process and attendant skills demand discipline. LLTeK customers have come to expect this and quality materials. We follow a strict formula supplied to us by Herberts-Standox - approved by Porsche. Color match issues can occur but our experience with this is rare to never.

Certain special anniversary or special edition colors found on Porsche® cars can be quite tricky but have often been handled sucessfully by our facility. These special colors often involve an added expense as the paint is delivered pre-mixed by Herberts-Standox. The surcharge is very reasonable.
Where can I find my Paint Code?
Our MatchPaint program is simply an additional service for you to consider to reduce your overall task of project completion, and of course, at a very reasonable cost. Click the link below to view instructions on where to find your Porsche's OEM paint code.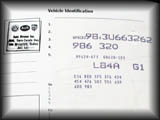 Where to Find Your Boxster / 996 OEM Paint Code